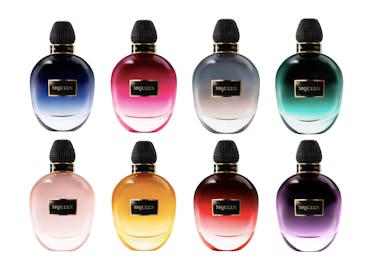 These New Alexander McQueen Scents Are The Only Things You *Need* To Splurge On For The Holidays
Courtesy of Alexander McQueen
I will be the first to tell you, I am not some beacon of endless money overflowing into the streets of New York City. I have about $20 to my name at the moment. That said, when I find something worth splurging on, I know it's gonna be damn good. Hell, it better be if I'm about to spend the last of my money on it and not on a quality Seamless meal. Enter: Alexander McQueen's new fragrances, in all their sleek and elegant glory — the one purchase I think it's legitimately worth it to splurge on this holiday season.
Part of the McQueen Collection and released in eight different variations, this latest collection of scents ($245, Alexander McQueen) was crafted by Alexander McQueen Creative Director Sarah Burton in close collaboration with parfumeur Pierre Aulas. All are essentially an ode to the strong presences found in nature, to those who don't quit. Filled with punchy, long-lasting notes like pepper, vetiver, cedarwood, red lily, osmanthus, and black currant, these fragrances "harness the essential and mysterious beauty of nature" and play into the idea of wearing fragrances as armor, ultimately enveloping you in the scent.
Each scent corresponds to a specific colored bottled, with a sleek, contemporary design, black studded cap, and gold detailing.
While the line largely takes inspiration from nature, the scents are far from overwhelmingly floral. Rather, much like the modern design of the bottle and the bold nature of Alexander McQueen as a whole, these new fragrances put a contemporary spin on classic notes.
The full range of newness includes Blazing Lily (notes of red lily and pimento), Luminous Orchid (notes of osmanthus flower, leather, and apricot), Celtic Rose (rosy, floral notes), Amber Garden (a warm, amber scent), Dark Papyrus (notes of blackcurrant and papyrus), Everlasting Dream (notes of sea salt and cedarwood), Vetiver Moss (notes of vetiver and orris root), and Sacred Osmanthus (notes of rose and spices).
Statement-making but certainly not overpowering, each scent is as addictive as the next. The line is currently listed online at Alexander McQueen's website, Harrod's, and Saks Fifth Avenue, and each perfume is currently retailing for $245.
Yes, $245 is a steep price to pay for a fragrance, but one whiff of literally any of the eight picks in this lineup, and I guarantee, you'll get sucked into its power, not to mention this is essentially an investment into your everyday life, considering you'll want to spritz away every single day.
As if you weren't adding enough McQueen fragrances to your holiday wishlist, the brand has another perfume in its collection: McQueen Parfum For Her ($345, Alexander McQueen). This beauty is for "the woman who blooms in the dark," according to the brand, and is, consequently, filled with notes of flowers which — wait for it — bloom in the dark. Powerful and romantic sambac jasmine packs a sweet-smelling punch, while notes of tuberose deepen and notes of ylang ylang offer an air of mystery. This particular bottle is black, but features a dazzling, fierce design along the top, with gold feathers fanning out along the nozzle.
Modern, mysterious, and addictive, these new McQueen fragrances are an impeccable pick for the fragrance fanatic in your life.