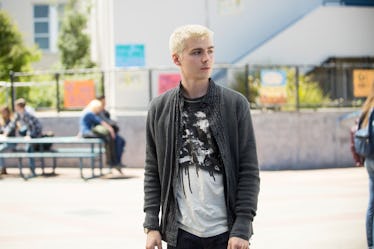 We Finally Have Confirmation On Alex Standall's Status In '13 Reasons Why' Season 2
Netflix
I figured out from an early age that TV characters weren't real and, more specifically, that Barney the dinosaur wasn't going to visit my school playground any time soon. But 13 Reasons Why has messed with that philosophy by giving its characters social media accounts, and just as you can tell a lot about what teenagers are thinking from their Instagrams, these fictional accounts are goldmines of information. You can find all of the show's teen characters on Instagram, but most importantly, Alex Standall has an Instagram, and it low-key confirms his fate for the upcoming Season 2.
With his first post dating to April 25 of this year, Alex's feed starts as a typical aesthetically pleasing account. He posted filtered photos of a video game controller, a cup of coffee, and more everyday objects, occasionally tagging the accounts of other characters in the posts. However, if you try to check out those pages or any of the 15 "people" Alex is following, you'll see private accounts. As of Tuesday morning, only Alex's page and the one set up for Hannah — with a final post on March 31, 2017 (Season 1's launch date) — are open to the public. Clearly, the show has put Alex in an important role by giving him an open account and essentially spoiling the results of his presumably self-inflicted gunshot wound.
We know that Season 2 is meant to pick up only a few months after the end of the first season, exploring the aftermath of Hannah's death in even further detail. It's confusing to try and assign a real-time equivalent to the storyline based on Alex's social media presence, but his most recent Instagram posts have hinted that he's still recovering from being in critical condition after shooting himself. A week ago, he shared a photo of curtains, writing alongside it, "Really into the hospital decor."
Well, if this isn't confirmation of Alex stabilizing in the hospital, I don't know what is. Those commenting on the photo have thrown around theories of what the setting means, including the idea that Alex has gone to a mental hospital after physically recovering from his attempted suicide. Some fans have argued that Alex showed signs of depression leading up to his heartbreaking decision at the end of Season 1, and after trying to kill himself, Alex having a stint in a psychiatric hospital wouldn't be too much of a surprise.
A following post from the teen also aligns with other theories about Alex's fate, particularly one suggesting that his mental health is closely monitored after his accident. In a photo captioned, "Welcome to my life now," Alex shows followers his (assumingly new) prescription drugs. He did have bad stomach pains throughout the first season, but maybe these meds have to do with another problem.
Recently, another Instagram user tracked down a behind-the-scenes shot of one 13 Reasons Why character, presumably Alex, using a cane. The photo fueled speculation about Alex getting harmed in Tyler's predicted school shooting, but if we were to go off Alex's Instagram, the cane may have to do with preexisting injuries.
In true millennial fashion, Alex posted yet another photo, calling the cane "my new wheels." So, if he's poking fun at the cane, I doubt he has to use it as a result of altercations with Tyler.
Alex's Instagram game is definitely enviable, as he then posted a "live" Instagram Story (aka a prerecorded message with 13 Reasons Why characters commenting on the feed) about his condition. His first Story focused on his shoe (perhaps a medical boot if you squint at it?) before the second flipped around to show Alex's face.
In his video message, Alex said:
Hey, it's me, alive and well-ish. I've been keeping pretty busy with rehabbing and eating healthy and being bored out of my mind. But I'm coming back, so be warned or whatever.
Kids these days, sharing everything on the internet.
Considering what he went through at the end of last season, Alex seems surprisingly lighthearted in the Instagram Story. He's likely experiencing physical therapy for his leg (and we still don't know how he hurt it), and the message suggests that he may be in rehab for his own mental health too. However, for all of the worry we've felt for him since last season wrapped, Alex appears to be in a much healthier place. Are good things ahead of him in Season 2?
We'll have to wait and see when new episodes of 13 Reasons Why debut on Netflix on Friday, May 18.