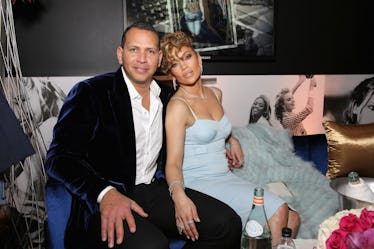 Everything Alex Rodriguez Has Said About Jennifer Lopez Over Time Is Too Cute, I'm Crying
Rachel Murray/Getty Images Entertainment/Getty Images
I'm all for a couple who can't stop talking about how in love they are and how much they inspire each other. Alex Rodriguez and Jennifer Lopez are one of those couples, and it's enough to make me cry tears of joy. Alex Rodriguez's quotes about Jennifer Lopez over time show that their love has been going strong since the very beginning of their relationship, and has grown even more as time has gone on. Seriously, these two are couple #goals, and the way they talk about each other is the way we all deserve to be talked about by the one we love.
A little background on this gorgeous couple, before we dive in: A-Rod and J-Lo met in 2005, when her then-husband Marc Anthony was throwing the first pitch at a Yankees game. Fast forward 12 years, to when A-Rod and J-Lo started dating in February 2017 (though rumors didn't begin spreading about their relationship until March). They made their official red-carpet debut at the Met Gala in May 2017. That December, they graced the cover of Vanity Fair, where they talked about their first date and all its adorableness. Then, at the 2018 Super Bowl, the couple celebrated their one-year anniversary. So cute! Come June, engagement rumors began spreading like wildfire, but J-Lo shut them down by telling Good Morning America that they plan on taking things at their own pace, but that's not stopping them from being head-over-heels in love with each other.
If, after all that, you need further proof that A-Rod and J-Lo were made for each other, here are nine of his quotes about her that show just that.