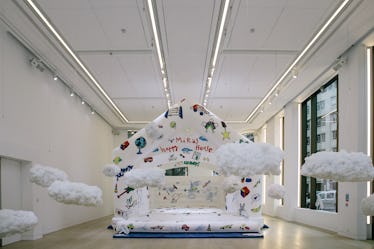 If You're Still A Kid At Heart, You Can Finally Rent A Bouncy Castle For Your Wedding
Helen Abraham/Getty Images Entertainment/Getty Images
You guys. I feel like I've been zapped back into the era of All That, Gushers, and see-through phones. It's because there's a new adult bouncy castle for weddings, and even though its limited to that occasion, my inner child is completely fanning out. (!!!) I honestly haven't even given a single thought toward my future wedding, but I'm currently reconsidering if that means I get to relive this nostalgic experience.
A company called A Wedding Wonderland recently shared photos of the festive rentals on its social media, and OMG. According to BuzzFeed, they're spacious enough to fit an entire bridal party (though you may want to check on weight requirements), measuring about 17 feet by 20 feet by 13 feet. The inflatable houses come in bridal white, and have a gorgeous white curtain to make them look wedding-appropriate and completely Instagram-worthy. But to help spruce things up even more, the company's website adds that the castles can also be decorated to a design of your choice, giving shoppers the opportunity to pick from a range of flowers and linings.
And when your big day finally rolls around, the fixtures can be delivered to your desired location, set up and dismantled for at total price of $400. Hold on one sec — this just seems to good to be true.
Whew. OK, I'm good.
But before you close out this window to go shop for your own (please don't. I want you to read the rest of my story), unfortunately they're only available in the United Kingdom. BuzzFeed notes that there are a couple of other companies who offer the rental, including 1 Entertainment and Mr. Bouncy Castle, but both are also in the United Kingdom. (Ugh, I knew it was too good to be true.)
If you're still following along and interested, A Wedding Wonderland is still accepting bookings for the castles "for the rest of 2018 and 2019," according to its Facebook page. The page adds, "Don't hesitate to get in touch for a quotation today. Please include the exact location of your event and the date it is to take place." But now that social media users have caught wind of the fun rentals, you'd better get over there and book fast before they sell out.
Everybody knows how exciting bouncy houses are. Just take a look at some of the tweets that hit the internet after Twitter users caught wind of the new creation.
@mortemistress wrote she was "gonna start pushing for marriage" so she can get a bouncy castle, and I'm glad I'm not alone.
Another user wrote, "Just saw an ad for a wedding themed bouncy castle *Orders it*... *Buys own engagement ring*"
Even though the bouncy castles aren't local, that didn't stop some Twitter users from dreaming, either.
@ladyelata wrote she "really really really really really really really really really really" wanted one, so maybe that'll help our argument for a bouncy castle company in the States.
Another added the castle to her Pinterest board.
There are also some people who don't understand the hype.
One user wrote his wife's cousin wanted a bouncy house for her 28th birthday party and I honestly don't see anything wrong with that.
There's clearly a market for these things in the United States so maybe we'll see them make their way here in the near future. But beware: I'm gonna break mine out at every birthday party, picnic and any other celebration that comes. And if you wanna come along, you'd better start practicing your back flips and other tricks now.