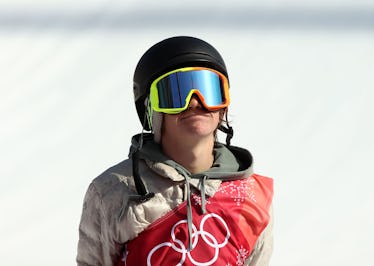 One Of Red Gerard's Jumps In Big Air Snowboarding Was Caught On Camera, & Wow
Ryan Pierse/Getty Images Sport/Getty Images
If you've been following the PyeongChang 2018 Winter Olympics even just a little bit, you've probably heard the name Red Gerard more than once. The 17-year-old Colorado native is a super talented young snowboarder, who actually kicked off the Winter Games by shredding in the slopestyle snowboarding event and winning a gold medal. And even though he was unable to medal in his final competition on Thursday, Feb. 23, a video of Red Gerard's big air snowboarding jump shows that he really is just so damn good at what he does.
This might be a little weird, but I kind of feel like a proud parent when I watch Gerard snowboard. He may have not medaled in the big air snowboarding event (he placed fifth), but nonetheless, his run was dope as heck. Point-wise, he didn't make it to the podium – Canada-born Sebastien Toutant won gold, Kyle Mack from Team USA won silver, and Great Britain's Billy Morgan won bronze. And I'm sure they all shredded spectacularly. I'm not saying I understand the big air point system even a little bit (because I definitely don't), but from where I'm sitting and eating greasy Chinese food leftovers, this video of his run made it look pretty incredible.
I guess the shredding gods — er, the Olympic judges — decided that Gerard wouldn't place for this particular event... but OMG, did you see how many spins he did? And how high he went? It was seriously incredible. I don't know about you, but I'm so beyond impressed, regardless of how well he did. I'm hoping he comes back to the 2022 Games with a vengeance — so watch out, Beijing olympians, because Gerard has some very important business to take care of.
Even though the teenager unfortunately didn't take home a medal after the big air snowboarding event, he was actually the very first athlete to win a gold medal for Team USA at the 2018 PyeongChang Winter Olympics. And even though he totally overslept before his slopestyle competition (thanks to Netflix), he still managed to snag first — for which I am envious, and once again, very proud.
After arriving late and beginning the slopestyle competition, Gerard wiped out during his first two slopestyle runs because of extremely high winds, per CNN. But, he ended up totally crushing his final run, ultimately outdoing all of the other boarders. Gerard is actually the youngest man from Team USA to win a gold medal at the Winter Olympics since 1928.
You're also probably wondering why Sarah Huckabee Sanders took that video of Gerard's big moment. Like, why is the White House Press Secretary at the games in the first place? It's a little random.
Well, Sanders was instructed to accompany a few other U.S. representatives — such as Ivanka Trump and Idaho's Senator, Jim Risch — at the 2018 Winter Olympics Closing Ceremony in PyeongChang, South Korea. A White House official reportedly told Daily Mail that Sanders is a "senior member of this administration" as well as "a trusted advisor to the president," so I guess those are all reasons why she's at the Olympics. And even though it's still a little unclear, I guess I'm just glad she got a solid video of Gerard. So thanks for that, I suppose.
There's no denying that Gerard is a boss on the slopes. So even though he placed fifth, he definitely deserves, like, a million rounds of applause. He's awesome at what he does, and the video goes to show that a "bad" run for an Olympian would undoubtedly be the best run of my entire life.