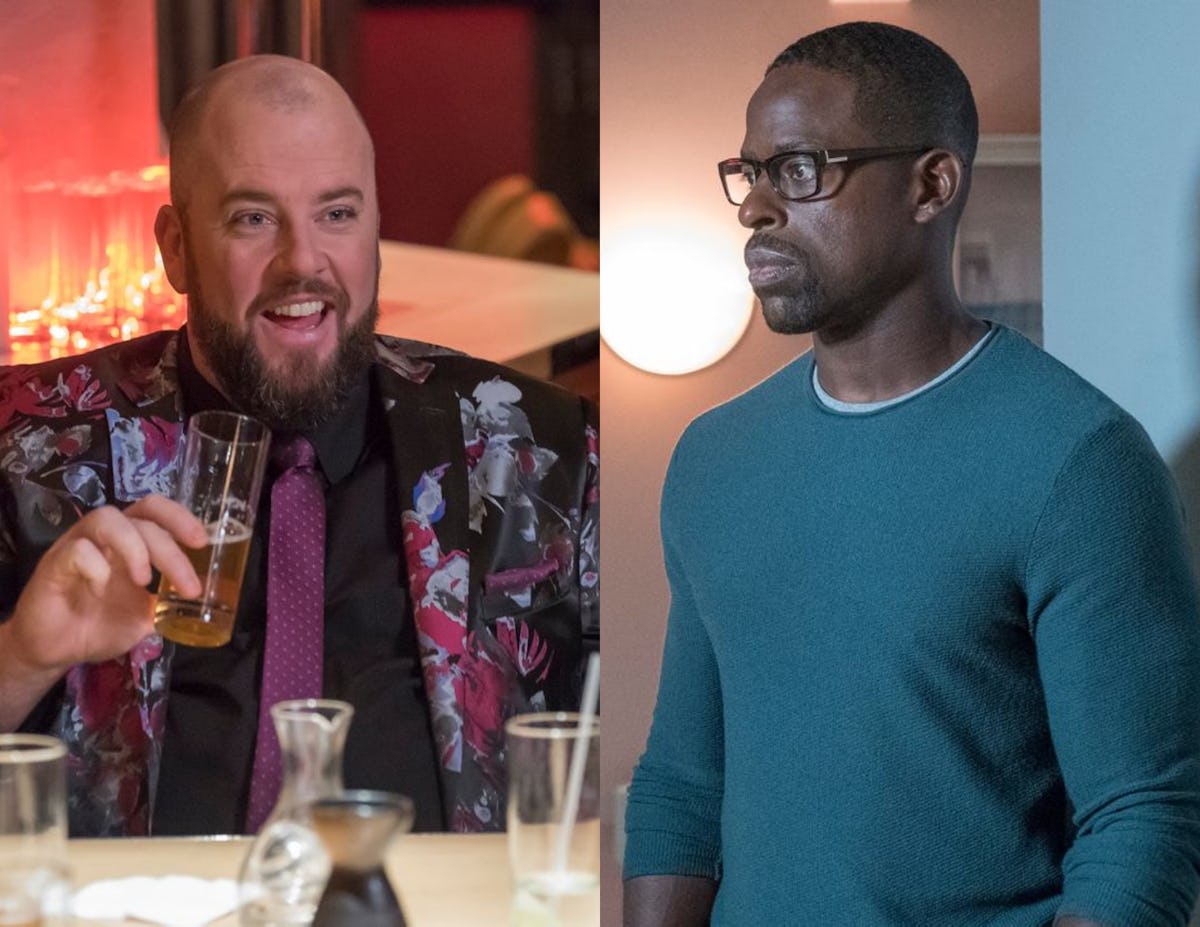 Sterling K. Brown Shared A Hilarious 'This Is Us' Deleted Scene Between Randall & Toby
NBC/Ron Batzdorff
On This Is Us, all Toby ever wanted before his wedding was approval and love from Kevin and Randall. The Pearson men finally seemed to accept Toby as a honorary brother by the time of his bachelor party in Las Vegas, but a brotherly relationship definitely involves more than just a coveted title. While Kate underwent her risky IVF surgery, Toby enlisted Randall's help to check off his role in the procedure, and the results definitely solidified their bond. A This Is Us Season 3 deleted scene shows a hilarious moment between Toby and Randall, and we're just grateful that fans have gotten to see it.
Experiencing some jitters during Kate's surgery (also likely because of his secret withdrawal from antidepressant meds), Toby confided in Randall during the Oct. 9 episode about his depression and how he hopes Kate never sees him at his worst. Randall then opened up about his anxiety and how Beth has witnessed his most vulnerable state. Discussing their more complicated sides definitely drew Toby and Randall closer together, but as the episode's deleted scene displays, their waiting time also included an awkwardly sweet conversation proving how devoted Randall is to his family.
In the scene, which Sterling K. Brown posted on Twitter, a nervous Toby (Chris Sullivan) struggles to deliver his sperm sample at the hospital. Randall steps in, further emulating his inner Jack Pearson by asking Toby to describe his ideal relaxing situation. It turns out that Toby enjoys a good old Chopped rerun as much as the next guy, and Randall goes with it, musing about the perplexity of creating a dish including rainbow trout and whipped cream.
Envisioning Ted Allen and the chaos of the Chopped kitchen puts Toby in the right mood, and before he disappears into the other room, he tells Randall, "Let's never speak of this." Randall is more than OK with that, saying, "Speak of what?"
Toby and Randall seemingly solidifying their loyalty to each other sets up the cryptic flash-forward scene seen in the Season 3 premiere. Future Toby was seen alone in a bleak bedroom setting, looking completely drained when Randall called him and tried persuading him to assumingly see "her." In the scene, Randall told Toby, "She wants you to be there," hinting that the "she" and "her" in this scenario are different women. Is the she a divorced Kate? "Katie Girls" ended with Kate's surgery going well, but we know that This Is Us's near and distant futures are fickle.
This week's emphasis on Toby also comes after the announcement that the third season will explore both Toby and Beth's backstories. Perhaps we'll see how Toby's depression affected his first marriage and whether having children was also a struggle for him back then. As we saw during Kate and Toby's wedding, he also grew up with a complex family dynamic, and we'll have to wait and see how his relationship with his parents and elusive younger brother affected the man we know today. Most importantly, will we see the reasoning behind Toby's love of Chopped?
Season 3 of This Is Us continues on Tuesday, Oct. 16, at 9 p.m. ET on NBC.