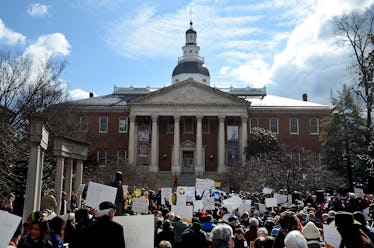 A Shooting Has Been Reported At The 'Capital Gazette' Newspaper In Maryland
Patrick Smith/Getty Images News/Getty Images
On Thursday June 28, a shooting was reported in Annapolis, MD at the office of the Capital Gazette newspaper. According to CNN, multiple people have been injured. Here's what we know so far.
Earlier on Thursday afternoon, reports surfaced that an active gunman had opened fire on multiple staffers inside of the offices of Annapolis, Maryland newspaper The Capitol Gazette. As of about 4:15 pm ET, a suspect who police believe to be the gunman is in custody. Phil Davis, a crime reporter for The Gazette who was there during the shooting, tweeted updates about the horrific incident while waiting to be interviewed by police officials. According to Davis, the shooter "shot through the glass door" of the Gazette office and then opened fire.
He wrote,
Gunman shot through the glass door to the office and opened fire on multiple employees. Can't say much more and don't want to declare anyone dead, but it's bad.
Police officials responded and evacuated the scene as soon as shots were reported fired. After the incident, Davis tweeted that "a single shooter shot multiple people at my office, some of whom are dead." As of 5 p.m ET, CNN reported that Acting Police Chief of Anne Arundel County Bill Krampf revealed at a press conference that "there are five fatalities" known so far.
Following the shooting, Maryland Gov. Larry Hogan took to Twitter to share his thoughts on the tragedy. According to Hogan, he is in contact with the Maryland state police as well as the Anne Arundel police to work out what can be done to help those affected by the shooting.
Unfortunately, thoughts and prayers haven't been enough to rid the United States of this epidemic of gun violence. The shooting at the Capital Gazette is just one of a handful of public shootings that has occurred in 2018 alone, such as the horrific Marjory Stoneman Douglas shooting in Parkland, FL on Feb. 14, as well as the Waffle House shooting in Nashville, TN on April 22. The topic of gun control has been a hot button issue over the past few months, leading gun control activists, students, and others to demand legislative change from Congress. Immediately following the Parkland shooting, Connecticut Democratic Senator Chris Murphy took to the Senate floor to discus the rising number of public shootings across the United States.
He said,
Let let me just note once again for my colleagues: this happens nowhere else other than the United States of America. This epidemic of mass slaughter, this scourge of school shooting after school shooting. It only happens here not because of coincidence, not because of bad luck, but as a consequence of our inaction. We are responsible for a level of mass atrocity that happens in this country with zero parallel anywhere else. As a parent, it scares me to death that this body doesn't take seriously the safety of my children, and it seems like a lot of parents in South Florida are going to be asking that same question later today.
Word, Sen. Murphy. The recent instances of gun violence in America has led the most unexpected individuals to step up and demand action from Congress, such as the Marjory Stoneman Douglas students. On March 24, the March For Our Lives protest took place not only in Washington, D.C., but all across the nation. That day, people including teachers, students, parents, and gun control activists walked together as a way to prove to Congress that stricter gun control legislation needs to be passed in order for public spaces within the United States to be safe again. Sadly, no legislative change has yet been passed to ensure that tragedies such as the Capitol Gazette shooting never takes place again.
My thoughts are with the victims of, and those affected by, the Gazette shooting. However, I, for one, hope that change will be made soon to ensue this never happens again.