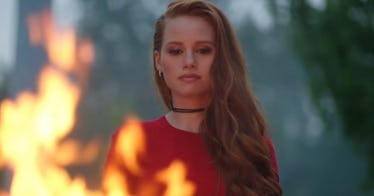 'Riverdale' Will Be Doing A Musical Episode In Season 2 & It Won't Be Like 'Glee'
The CW
Calling all musical theater lovers. A Riverdale musical episode is officially in the works and we couldn't be more pumped. The CW show will be putting on CARRIE: The Musical in an upcoming installment for Season 2, so get ready for some of your fave characters to sing their hearts out. According to the "cast list" (below) Archie, Betty, Veronica, Reggie, Cheryl, and more will be featured in the production, which is apparently directed by none other than Kevin Keller. Even Jughead has a part, and we never really had him pegged for the musical theater type. And, look — Alice Cooper is participating in all her non-student glory. Moms don't typically act in high school plays, but this is Riverdale we're talking about, so we'll take it. Gang's all here!
It looks like Cheryl will take on the iconic role of Carrie, which makes perfect sense considering the red hair and the rage-fueled powers. We all know hell hath no fury like a Blossom scorned. Riverdale achieves a great balance of wit, thrills, and nostalgic camp, so a musical episode with dark Stephen King source material is surely in its content wheelhouse. Ah, we can smell the pig's blood already...
CW's press release about the event reportedly states, "Future Tony Winner Kevin Keller helms as director, combining iconic elements from the novel, 1976 movie, 1988 Broadway production, 2012 Off-Broadway revival, and 2013 remake to create a retro-yet-timeless interpretation of Stephen King's horror classic." It also notes, "a behind-the-scenes documentary following the making of "Carrie: The Musical" will be filmed by student videographer and journalist Jughead Jones." Interesting. Jughead's perspective should be a unique insider compliment to all the theatrics.
Of course, the Riverdale-verse is no stranger to using song to take a scene to the next level. Josie and the Pussycats have been integral from the beginning, and we can't get enough of their performances. Remember that catchy "Milkshake" cover? It was definitely a standout gem from the season so far. Both Archie and Veronica had their share of musical moments, even teaming up for a sultry rendition of "Mad World" during Betty's serpent strip tease.
With so many vocal chops in this cast, a musical episode is basically mandatory at this point.
At WonderCon last April, showrunner Roberto Aguirre-Sacasa previously discussed the chances of one actually happening, saying,
Everyone's a great singer on the show. Lili [Reinhart], can sing. [Camila Mendes] can sing. Obviously The Pussycats and Archie. Maybe the only kid who can't sing is Cole.
Sorry, Cole. Though, we don't think he minds. "That is seriously the one thing that I have been like, please don't make me sing," Sprouse said to E! News in May. "I just survived a Disney career without singing. I don't want to, like, fall back in. I feel like I escaped, so if we could avoid it for as long as possible, that would be great."
But Camila Mendes hasn't been shy when it comes to showcasing her singing talent. She posted this video of herself performing a duet of "How Deep Is Your Love" by the Bee Gees last November:
Riverdale joins a long list of TV programs to produce a music-centric episode. Buffy the Vampire Slayer's "Once More, With Feeling" is an iconic example of one done right, and Scrubs, Grey's Anatomy, and The Flash all had successful versions in their own right. Even It's Always Sunny in Philadelphia had their unforgettable play-within-a-show with "The Nightman," although something tells us Riverdale's "CARRIE: The Musical" tone is going to come off a little differently...
Riverdale's musical episode is entitled A Night to Remember and is set to air on April 18, 2018. It will feature 11 songs. Break a leg, kids!