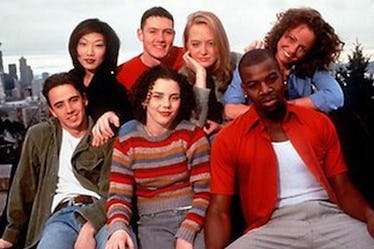 A 'Real World' Revival Is Officially Happening, So Get Ready To Stop Being Polite
MTV
Hot tubs, confessionals, drama — oh my! A Real World revival is officially happening, so get ready to watch a group of strangers work, play, and fight while living together in a sweet house somewhere. While that might sound like the main gist of many reality shows these days (where would Jersey Shore or Big Brother be without The Real World, honestly?), MTV has decided to go back to the docu-series that kicked off the trend that changed the television landscape forever. According to The Hollywood Reporter, the network is looking to bring the long-running series to a streaming platform.
The Real World debuted back in 1992 and went on to spawn 32 seasons — the last being Real World Seattle: Bad Blood, which aired between 2016 and 2017. The show is considered a reality TV pioneer, paving the way for a boom of programming dedicated to documenting peoples' every move. The influencial Real World also generated the subsequent spinoffs Road Rules and The Challenge. The Challenge is on the verge of entering its 32nd season.
Real World's resurgence following its hiatus comes on the heels of MTV's successful revival of Jersey Shore, the currently-running Jersey Shore: Family Vacation. The network formerly known for strictly airing music videos revived My Super Sweet 16 after almost a decade last year, and brought back Cribs as a Snapchat series in 2016. Proving that the '90s just cannot be escaped, TRL (formerly Total Request Live) got a sans-Carson Daly reboot last summer. Will Room Raiders be next?
If Real World heads to a streaming service outside the confines of cable's MTV, it has the potential to switch up its structure and return to — or expand from — its grittier roots. Despite ongoing criticism about reality TV's negative affect on entertainment, the groundbreaking Real World is credited with putting a spotlight on issues like abortion, AIDS, homophobia, and racism. Cast members didn't always see eye to eye on subjects such as politics and religion, but their differences opened the door for conversations about topics that weren't necessarily given attention on, say, your ends-with-a-hug primetime sitcom.
Co-creator Jonathan Murray spoke to The Huffington Post last year about why the genre deserves to be taken seriously:
I think reality takes us places where we've never been before. When we first started doing The Real World in 1992, I think television was pretty boring. We had a lot of procedural dramas and a lot of bad sitcoms. I think reality has made scripted television better. It forced them to do some more innovative things, like the show Lost. I think there are certain stories that are better told in a reality form. The Real World, a story about young people finding out who they are and making mistakes and having to live with those mistakes, is much more interesting than it would be in a scripted show. It's not some 40-year-old trying to write what a 20-year-old would be saying.
The Real World has evolved over the years and experimented with a variety of formats to spice things up. Season 29's Ex-Plosion marked a re-working of the show — dropping the "The," so the title would from then on be known as Real World. It featured a typical MTV device of bringing back cast members' former significant others for further conflict. Season 30's Skeletons employed the introduction of "skeletons," or people of from the cast's pasts.
Maybe the new revival of Real World will go old school and not complicate its original intentions with gimmicks and drama-inducing stunts. It worked for the early '90s — who's to say simplicity can't win in 2018?