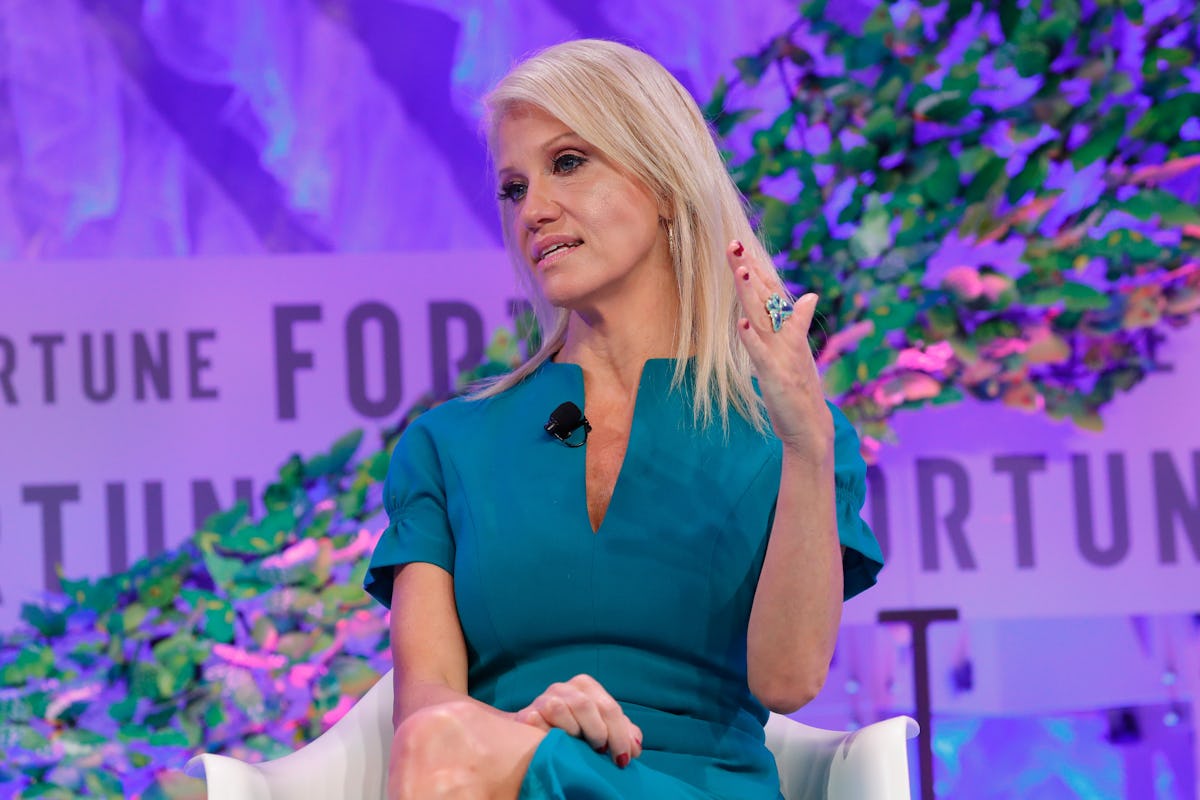 A Protestor Asked Kellyanne Conway About Trump's P*ssy Grabbing & Conway's Answer Will Frustrate You
Paul Morigi/Getty Images Entertainment/Getty Images
During the Politico Women Rule Summit in Washington D.C. on Tuesday, Dec. 5, Melissa Byrne, a consultant for progressive organizations, stood up to ask Kellyanne Conway about her work for President Donald Trump. Conway was giving the keynote interview, conducted by Politico's Anna Palmer, on a variety of topics related to "Women in the Trump Administration" to a room filled with reporters, activists, and consultants alike. A few minutes into the onstage conversation, Byrne stood up and shouted from the crowd, "Kellyanne, your boss grabs women by the p*ssies. How is that OK?"
Byrne was, of course, referring to the 2005 Access Hollywood tape that leaked in October 2016 where Trump can be heard talking about grabbing women "by the p*ssy." (Following the leak, the president issued a statement where he apologized for the "locker room banter," and then later apologized a second time via Facebook, citing the Access Hollywood tape as a "distraction from the important issues." Most recently, he's reportedly questioned if the voice heard on the Access Hollywood tape is his own, according to The New York Times.)
"She just wants to go viral," Conway said in response to Byrne's comment. Palmer then jumped in to say that "we're here to have a dialogue," and asked the audience to let the two of them talk onstage.
Conway continued, "Just remember, you didn't get the question out of your mouth," so Byrne spoke up again. "Your boss grabs women by the p*ssies. He should not be in the White House," she shouted from the crowd. "Why do you work for him?"
A few of the event organizers stood and headed towards Byrne as she shouted from the crowd.
In response, Conway said: "You don't have to remove her on my account. I very much believe in the First Amendment, and I think anybody has the right to sound like a complete jackass, if they like to."
The crowd, filled with women, hissed.
"I don't see how you can come to an event that is digging into sexual assault and sexual harassment when you're promoting [Trump,]" Byrne tells me in an interview for Elite Daily right after Conway's panel ended, adding that she feels the same about Trump's support for Roy Moore. While Trump has been accused of sexual misconduct, the White House's official stance is that the women making the accusations are lying.
Byrne, who has participated in other acts of protest against the Trump administration, believes that Conway's calling her a "jackass" was "reflecting the lack of values of the administration." Meanwhile, Byrne particularly notices that Conway refused to answer the question at hand. "[Conway] refused to address the issue, and I think it shows she had zero words to use to defend his actions, and so she does what a bully does: Call a name," she says.
After Byrne's disruption, Palmer did go on to ask Conway on the panel about Trump's support for Moore, who has been accused of pursuing women when they were teenagers and he was in his 30s. Moore has denied allegations of wrongdoing. Conway stated the president's reasons for endorsing Moore, one of which includes getting reliable votes for his agenda. However, when asked if she specifically endorses Moore, Conway said, "I don't have a comment on his candidacy because I don't endorse candidates one way or another."
The conversation also included discussions of the #MeToo movement. Conway said that she discussed her own #MeToo instances on Oct. 9, 2016. Then, she discussed members of Congress who were "rubbing up against girls, sticking their tongues down women's throats uninvited who didn't like it" when she was younger. "Nobody cared about what I was saying because of whose campaign I was managing. If we're going to have an honest conversation, everyone, you can't pick and choose depending on somebody's politics," Conway said.
As advice to women, Conway said that the first step in an instance of sexual harassment in the workplace is to speak up to that person and tell them they're making you uncomfortable. Conway added that we have to stop putting instances of "compliments" on the same plane as "rape" when we discuss sexual harassment. Conway noted that this made some women in the room visually uncomfortable.
Indeed, the full panel was fairly uncomfortable for the room of women there to spend the day discussing and hearing about women's empowerment. When Conway's panel started, at least two women got up and left, with one stating that she was intentionally making a grand exit in protest of Conway.
"This administration is so cloistered that they're very unlikely to actually hear dissent," Byrne says. "So I think it's important whenever they are in a public setting that they see the dissent and they see the resistance."