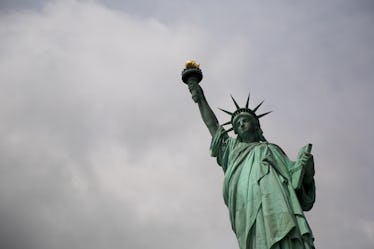 A Protester Actually Climbed The Statue Of Liberty On Fourth Of July, & Wow
Drew Angerer/Getty Images News/Getty Images
The Fourth of July is a national holiday that honors the adoption of the Declaration of Independence. The day oftentimes is spent enjoying the summer weather while sporting a lot of red, white, and blue. In the age of President Donald Trump, there are questions about what it means to be "patriotic," especially given some of his administration's divisive policies. One person took her issue with Trump's "zero tolerance" immigration policy to great heights on Wednesday, July 4. A protester climbed the Statue of Liberty on the Fourth of July to speak out against the separation of immigrant children from their parents at the U.S. border.
The woman, who was identified as Therese Okoumou, climbed the Statue of Liberty on Wednesday to nearly 100 feet above ground, according to the Associated Press. Okoumou was originally a part of a group of 40 protesters who were at the base of the Statue of Liberty to display a banner calling for the abolition of U.S. Immigration and Customs Enforcement (ICE). Once she branched off from the group and ascended to her perch on the monument, there was a four-hour standoff between her and the New York City Police Department.
Video of the ordeal from CNN illustrates how high Okoumou climbed to make her voice heard. A source with the New York City Police Department said she told them that she would not come down until "all the children are released," per CNN.
The four-hour effort got off to a rocky start, according to Officer Brian Glacken's comments during a Wednesday night press conference. Glacken explained, "At first, she wasn't friendly with us, but we took the time to get a rapport with her so that took a while." He elaborated on the scene when he said, "She just kind of mentioned the kids in Texas. I guess the whole debate that's going on about that. In the beginning, she threatened to push us off, push the ladder off, but we stayed with her."
Officers ultimately climbed up to the base of the Statue of Liberty to get to her, and they all safely made their way down a ladder to the observation point on the monument. Glacken added, "She actually apologized to us for having to go up and get her." Once everyone was safely on the ground, Okoumou was arrested and taken into custody. Per CNN, her "possible charges include trespassing, disorderly conduct, and interfering with government functions."
You might wonder how someone could be so impassioned as to put themselves in danger in order to make their protest so visible. For Okoumou, she reportedly said she was protesting the separation of immigrant children from their parents when they cross at the U.S. border without authorization. It's likely not a coincidence that Okoumou chose the Statue of Liberty — a symbol of U.S. freedom and a beacon of hope for immigrants — as her site for protest. During the ordeal, visitors had to be evacuated from the Statue of Liberty and were forced to leave Liberty Island ahead of its regular 6:15 p.m. closing time.
Okoumou was originally at the Statue of Liberty on the Fourth of July with a group called Rise and Resist. One of the group's organizers, Jay W. Walker, said that their planned protest against ICE didn't intend for Okoumou's ascent up the monument, per the Associated Press. Walker didn't know if she premeditated the climb or if it was a "spur-of-the-moment decision," but he felt it helped raise visibility of their protest of ICE, the U.S. government agency that is responsible for the arrest and deportation of immigrants in the United States without authorization. Walker elaborated on the origin of the Fourth of July protest when he said:
We thought we wanted to do something on our Independence Day, a day that obviously is meant for reflection on the ideals on which this nation was founded. This country has posited itself as a beacon. Right now, we have a government that is actively turning its back on those ideals.
The Trump administration enacted the "zero tolerance" immigration policy in April, which means that adults who cross the U.S. border without authorization will be prosecuted and separated from any children with them crossing the border. Attorney General Jeff Sessions expanded on what this means in May. Per Time, Sessions told law enforcement officials in Scottsdale, Arizona:
If you are smuggling a child then we will prosecute you, and that child will be separated from you as required by law. If you don't like that, then don't smuggle children over our border.
Shortly after that, Trump signed an executive order on June 20 aimed to keep families together, "consistent with law and available resources." Even with 522 reunions of migrant children and parents reported by the Department of Homeland Security (DHS) on June 23, 2,053 separated migrant children are still in the custody of the Department of Health and Human Services (HHS).
Even with a reunification plan put forward by DHS, nothing can be done for migrant children until their parent has completed deportation proceedings. CNBC reported that those "deportation proceedings could take months to complete," and the migrant children and parents remain separated during that time.
It's those uncertainties in the reunification plan that have protesters like Okoumou going to great lengths to advocate for the swift reunification of all migrant children and their parents.