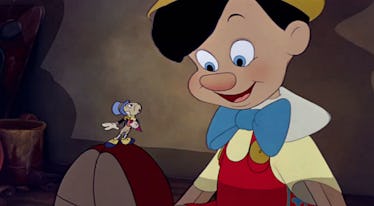 'Pinocchio' Will Officially Become A Real Boy In A New Disney Live-Action Remake
Disney
Pinocchio will finally become a real boy after all, thanks to a new movie in the works. A live-action Pinocchio movie is coming, marking the latest in a line of recent Disney live-action remakes. Disney has just selected a director for its new reimagining of Pinocchio: Paul King, who just wowed audiences and critics with his latest release Paddington 2.
The story of Pinocchio, a puppet who goes on a series of adventures in order to become a real boy, actually originated in a 1883 books by Italian writer Carlo Collodi, and the living puppet has since become one of the most reimagined children's characters of all time. Pinocchio has been portrayed in film and television dozens of times, but most famously in the 1940 Disney animated movie Pinocchio, the second feature film that Walt Disney ever put out, after 1937's Snow White and the Seven Dwarves.
The story of Pinocchio is one of the most popular children's stories ever. It follows a living puppet named Pinocchio who learns that he can achieve his dream of becoming human if he is brave and righteous. In the Disney movie, Pinocchio sets off on a journey that involved being kidnapped, turned into a donkey, and swallowed by a whale, all while being advised by his living conscience, a cricket name Jiminy Cricket. Pinocchio also has the strange affliction of his nose growing each time that he lies.
Although Pinocchio's most well-known adaptation has been animated, the upcoming movie will employ live action and CGI, in the same vein that recent Disney remakes like The Jungle Book and The Lion King have done. Pinocchio has been retold using live action before, most notably in 1996's film The Adventures of Pinocchio, which starred Jonathan Taylor Thomas as Pinocchio and Martin Landau as the puppet-maker Geppetto. Though Pinocchio has been remade numerous times throughout the past century, the upcoming Paul King project will be the first time that Walt Disney Studios have been involved in a remake since their iconic 1940 cartoon.
The Disney's Pinocchio remake will actually have some wooden competition, though. Warner Brothers Studios has its own Pinocchio movie in the works right now, with Robert Downey Jr. on board to portray both Pinocchio and Geppetto, and Ron Howard set to direct. Fantasy film icon Guillermo del Toro was also working on a stop-motion Pinocchio movie for a while, but last year announced that the project had been canceled. Disney's Pinocchio remake is slated to begin production this fall, so we probably won't see it for a while.
Signing on as the director of Disney's new Pinocchio movie is the second time in the past week that Paul King has taken on the reinvention of a major children's character. Last week, King was announced as the director of Warner Brothers' upcoming Willy Wonka prequel movie. Both projects come after the immense success of King's Paddington 2, which became the best-reviewed movie of all time earlier this year. The Pinocchio remake will be written by Jack Thorne, who previously wrote the stage play Harry Potter and the Cursed Child along with J.K. Rowling.
Pinocchio is the latest property that Disney is remaking currently. The studio has already released a number of live-action remakes to animated classics, including 2010's Alice in Wonderland, 2015's Cinderella, 2016's The Jungle Book, 2016's Pete's Dragon, and 2017's Beauty and the Beast. Disney has even more remakes in the works along with Pinocchio, such as Mulan, The Lion King, Aladdin, Peter Pan, Christopher Robin, Dumbo, and Cruella. It's beginning to look like every animated classic will be getting a live-action remake pretty soon at this pace.