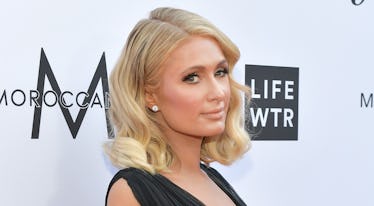 There's A Paris Hilton Documentary Coming Out & You Can See A Clip From It Right Now
Neilson Barnard/Getty Images
Paris Hilton is letting us know that her world of fame isn't such a simple life after all. The socialite heiress is the focus of a new documentary all about American society's complex relationship with social media, and a first look clip at the Paris Hilton documentary reveals a vulnerable new side to her.
In the upcoming documentary The American Meme, Paris Hilton details how she went from Hollywood "It" girl in the mid-2000s to an avid social media star with millions of Instagram followers. Surprisingly, when Hilton talks about her relationship with social media, it is a lot more depressing than fans might assume. Hilton talks about the loneliness that she feels because of her fame, and says that she uses social media to connect with her fans in order to combat that isolation:
I love my fans just as much as they love me. I feel closer with them than I do most people that I know. They're really like my family.
The first clip from The American Meme sees Paris Hilton talking about her uniquely personal relationship with her fans through social media. In the video, the heiress says that she often shares her personal phone number with her fans, and will even invite them to stay with her. She estimates that she is on an airplane for about 250 days per year, and all that travel creates a heavy feeling of isolation.
She goes on to admit that it is because of the struggles that she has had in life that she now chooses to spend her time with the fans that love and support her:
I've been through so much in life, and I don't really trust people. I've just grown so accustomed to being f—ed over. With my fans I don't feel like that at all... I can truly be myself around them.
Check out the clip of Paris Hilton talking about her relationship with her fans from The American Meme below:
Paris Hilton is not the only social media star to open up in The American Meme. The new documentary will also feature other buzzy celebrities who are well-known for their unique mastery of social media, including Emily Ratajkowski, DJ Khaled, and Hailey Baldwin. The doc will also star the faces behind some of the most viral Instagram accounts, such as Josh Ostrovsky (@thefatjewish) and Brittany Furlan (@brittanyfurlan).
The American Meme marks Paris Hilton's first major film role in about a decade, save a small cameo in 2013's The Bling Ring. After rising to fame in the mid-2000s on her reality series The Simple Life, Hilton became emblematic of celebrity culture in that era. She became ubiquitous, with movies, TV shows, and even a music career cropping up.
But recently, Paris Hilton has refocused her attention to building her brand on social media. Currently, she is probably best known for her DJing gigs and her Instagram presence. And of course, she continues to be a figure of millennial nostalgia for all but defining the pop culture of the mid-2000s, and has ironclad name recognition among all generations.
The American Meme is directed, written, and produced by Bert Marcus, who has previously worked with Paris Hilton as a producer on the 2010 documentary Teenage Paparazzo, which featured Hilton. Marcus' two notable docs before The American Meme are the 2014 Mike Tyson-starring boxing doc Champs and last year's star-packed doc about electronic music What We Started, which featured Ed Sheeran, Usher, and David Guetta.
The American Meme is set to premiere at the Tribeca Film Festival in New York City on April 27.