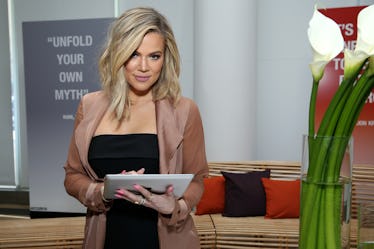 Khloe Kardashian Posted Another Baby Bump Pic & It's The Sparkliest Thing You've Ever Seen
Cindy Ord/Getty Images Entertainment/Getty Images
While we all sit here stalking all forms of social media as we wait for the Kardashians to drop Day 25 of their Christmas card, and at long last confirm Kylie Jenner's reportedly pregnancy, at least there is one silver lining. Make that a shimmery silver lining. A new photo of Khloé Kardashian's baby bump in a sparkly custom fringed jumpsuit by Yousef Al Jasmi just turned up on Instagram, and we are so here for it's extra-ness!
The gorgeous photo was taken at her mom Kris Jenner's infamous Christmas Eve party at the Calabasas manse, also attended by sisters Kim, Kourtney, and Kendall. Khloé, of course, is expecting her first child with her boyfriend, NBA star Tristan Thompson, and the mama-to-be looked simply stunning in her full, high ponytail, and glimmering, sexy one-piece ensemble that perfectly showcased her adorable baby bump. Major pop star vibes.
'Tis the season, right?
"Merry Christmas!!" Khloe wrote in the caption of her two-fer post, which features both a still image and a Kira Kira-ed up video of her all glammed-up in fur and fringe outside Kris' front door. "May you sparkle and shine this festive season, may all of your wishes and dreams come true. I pray that we all may feel this happiness all year round. God bless you! ✨ #BabyBump."
Damn, girl! She is definitely serving up the fierceness big-time. And I really love that to top it all off, Khloé is just so excited to be a mom!
Of course, we still don't know (1) what she's having or (2) whether her sister Kylie is actually preggers, too — #prayers —But what we do know is that Khlo-Money had a great time mingling and dancing and celebrating the holiday season with all her family and friends last night, even though she joked about being bummed because she couldn't get drunk. I mean, at least I think she was joking.
"Being sober at this party is a different vibe," she said on her Snapchat story while taking a video with her sister Kendall and hairstylist Jen Atkin. "I wish I was drunk and embarrasing. I miss being annoying like these b*tches! I'm sober Khloe and I don't like it!"
Then later, when Atkin made fun of her for not being drunk (ahh, friendship!) Khloé fired back: "I have a few more months of this and then I'll be drunk Khloe."
While I really don't mind Sober Khloé (or that amazing bronze, smoky eye thing she's got going on here) one bit, I kind of can't wait to see her get all tipsy the first time she drinks after giving birth. And you just know Tristan is gonna have that delivery room stocked floor-to-ceiling with Belvedere! Looks like Mama Kris may have already gotten a head start:
Meanwhile, Khloé and her curve-hugging silver ensemble also guest-starred in one of her sister Kim's snaps from the party.
"I know what you guys all really want to see," Kim said, panning away to show her fans a vid of Khloé rubbing her belly.
So sweet! And is anyone else here getting major Madonna vibes here from Kim?
Meanwhile, earlier on Christmas Eve day, Khloé let us all in on the fact that she's not letting her pregnancy keep her from her fitness routine. She Snapchatted herself getting her workout on in a black hoodie and matching pair of leggings, with a flannel tied around her waist and her baby bump on full display.
"I love that I can finally Snap my workouts again," she said in the video. "Merry Christmas to you and more workouts yet to come."
We can't wait!