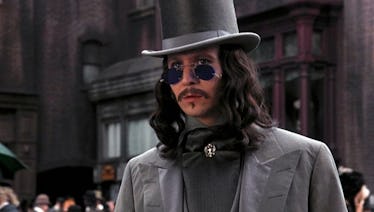 A New 'Dracula' Miniseries Is Coming To Netflix, So Pour Yourself A Cup Of Blood
Columbia Pictures
No matter what decade it is, there will always be people fascinated with the idea of vampires. From Anne Rice's Interview With A Vampire to Mel Brooks' Dracula: Dead & Loving It, it seems like the undead are brought to live over and over on the big and small screens. The last mostly-faithful adaptation was 1992's Bram Stoker's Dracula, but that doesn't mean someone hasn't been trying to make another one, including the defunct "Dark Universe" franchise. But now there's a Dracula miniseries coming to Netflix, done in conjunction with the BBC.
This is actually a project the BBC has been trying to get off the ground since 2017. Last year, it put out a declaration it would be the next major project by the duo who brought us the modernized Sherlock series, Steven Moffat and Mark Gatiss.
But for those who worried their take on Dracula would also find itself given the modern treatment, there's nothing to worry about. According to today's press release from the BBC, the three-part miniseries, which Netflix will have distribution rights for outside of the UK, is definitely a period piece. In fact, the show will be set in 1897, when Bram Stoker's book was initially published.
According to Variety, which broke the news:
Variety was the first to report that Mark Gatiss and Steven Moffat were working on a new take on the Bram Stoker story last year and that Sue Vertue's Hartswood Films was set to produce. UK pubcaster the BBC has now commissioned three 90-minute installments. Netflix will carry the show in most markets outside the UK Dracula marks another collaboration between Moffat and Gatiss after they combined efforts on episodes on Hartswood-produced Sherlock. Set in 1897, the series will revolve around the blood-drinking count from Transylvania who sets his sights on Victorian London.
Variety notes that this is the second Dracula adaptation this decade. NBC had an adaptation in 2013, but it only lasted one season.
According to The Hollywood Reporter, Piers Wenger, controller of BBC Drama, said:
Steven and Mark's ingenious vision for Dracula is as clever as it is chilling. In their talented hands the fans will experience the power of Bram Stoker's creation as if completely anew. We are thrilled to be collaborating with them and the brilliant team at Hartswood on yet another iconic British series.
The BBC has recently moved to partner with Netflix giving them full distribution rights outside the UK to lavishly fund several series that would otherwise not receive as large a budgets. They include things like Troy: Fall of a City, Duty/Shame, as well as the upcoming Bodyguard, which was an enormous hit for the BBC and arrives on Netflix on Oct. 24.
Sue Vertue, the executive producer at Hartswood Films, said:
We are absolutely thrilled to be back at the BBC, and also delighted that Netflix are coming on board with Dracula. There's nothing like fresh blood.
Nothing like fresh blood indeed. The Dracula miniseries does not yet have a release date but is expected to arrive in late 2019 or early 2020.