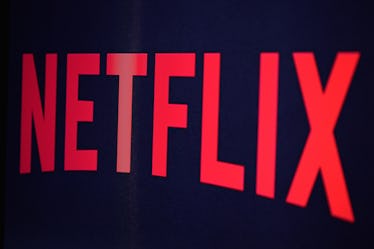 A Netflix Email Scam Is Making The Rounds, So Be Careful When Opening Up Your Messages
Pascal Le Segretain/Getty Images News/Getty Images
Binge watchers, beware. Chances are, you'll be one of the 110 million subscribers who receive a suspension notification about your favorite streaming service — but there's a huge catch you need to know about. A Netflix email scam is making the rounds, so don't necessarily believe that you have to take action with your account.
In order to entice subscribers to provide credit card numbers, the fake email asks for users to update financial information, as it claims the company is "unable to validate your billing information for the next billing cycle." This email also tricks its readers into believing that services will be canceled within 48 hours. Do not be fooled by this message, no matter how convincing it might seem.
Anything you see with the subject line, "Your suspension notification" is cause for the trash bin. This email leads to a fake website sporting the Netflix logo and footage from the service's popular shows. The email also states, "We're here to help if you need it. Visit the Help Center for more info or contact us." There are plenty of hyperlinks throughout the message that bring you to a faux Netflix, so just delete, delete, delete.
You are warned to "remain vigilant" and keep an eye on your account, regardless if you opened the email or not.
Netflix released a statement to Mashable, stating, "We take the security of our members' accounts seriously and Netflix employs numerous proactive measures to detect fraudulent activity to keep the Netflix service and our members' accounts secure." If you're feeling uneasy about the news, the company urges you to call its customer service number or head to Netflix.com/security.
Now that you've addressed the issue at hand, it's time to think about what you're going to be watching on Netflix this month. With a myriad of new options, there are plenty of shows and movies that'll strike your fancy — particularly if you're fond of the service's original content. This week is particularly sweet. Here's what is on the way, so get ready to make a bowl of popcorn and indulge:
Coming Nov. 6:
Coming Nov. 7:
Dizzy & Bop's Big Adventure: The Great Music Caper
Fate/Apocrypha: Part 1 — NETFLIX ORIGINAL
Killing Ground
P. King Duckling: Season 1
Project Mc²: Part 6 — NETFLIX ORIGINAL
The Journey Is the Destination
Coming Nov. 10:
Blazing Transfer Students: Season 1 — NETFLIX ORIGINAL
Dinotrux Supercharged: Season 1 — NETFLIX ORIGINAL
Glitter Force Doki Doki: Season 2 — NETFLIX ORIGINAL
Lady Dynamite: Season 2 — NETFLIX ORIGINAL
Mea Culpa — NETFLIX ORIGINAL
The Killer — NETFLIX ORIGINAL
Coming Nov. 12:
If the little kid in you wants to channel memories of years past, you'll be glad to know that classics like Casper and Charlotte's Web are already available. If you're looking for one last Halloween hoorah, have a gander at Silent Hill or The Veil, both of which are ready for your spooky viewing pleasure. By mid-month, you will receive the Christmas treatment with A Christmas Prince (an OG) and Santa Claws Shot in the Dark: Season 1 (another OG) on Nov. 17, so get in the scaries one last time before then.
While it might be a bummer to know that the Equifax breach of TV streaming services has hit, there are ways to secure your services and the alert is definitely out and about now that the phishing email has reached so many inboxes. Be aware of your account activity, but don't forget to enjoy all that Netflix has to offer this month.
Check out the entire Gen Why series and other videos on Facebook and the Bustle app across Apple TV, Roku, and Amazon Fire TV.