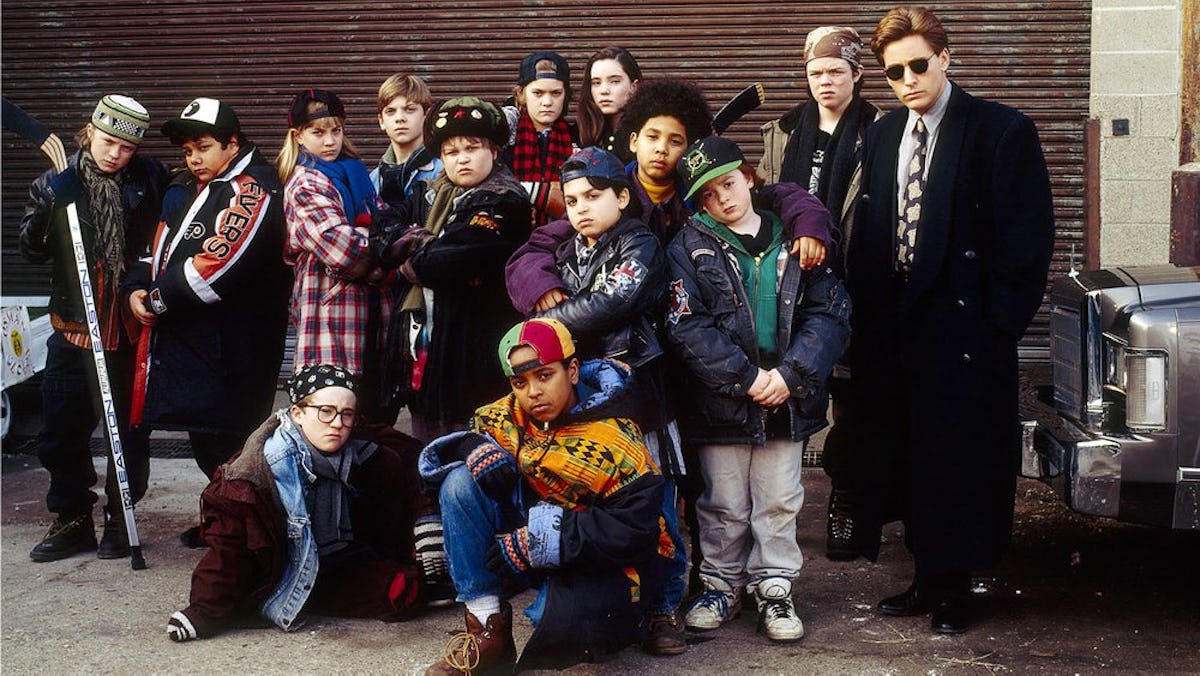 A 'Mighty Ducks' Series May Headed Back To TVs Very Soon, So Start Cheering '90s Babies
Buena Vista Pictures
Get ready for more '90s nostalgia in your life, because a Mighty Ducks TV series is reportedly in the works. The 1992 family-friendly sports favorite that launched countless quacks across America and beyond might just be the latest classic of yesteryear to get the reboot treatment. According to The Hollywood Reporter, original screenwriter Steven Brill and producer Jordan Kerner are adapting the films into an ABC Signature Studios television show. Emilio Estevez, who famously played lawyer-turned-coach Gordon Bombay, is not signed on to return at this time. Fingers crossed... Though, may we suggest all-grown-up Joshua Jackson (who portrayed Charlie Conway in the OG trilogy) to also come back and reprise his role? Please?
The Mighty Ducks was an unstoppable force in pop culture back in the 1990s and its influence spanned the decades to follow. The movie had two subsequent sequels after the 1992 original became a massive success. Even Anaheim even got its NHL team name from the film. ABC produced a short-lived animated spinoff for TV back in 1996, the same year the final film was released. Talks of a fourth movie have been floating around for a while, but nothing has gotten off the ground. It appears that a TV revival is where it's at.
In Time 's 2014 fascinating oral history of The Mighty Ducks, producer Jordan Kerner spoke about the future of the franchise, revealing,
There have been a number of times that we have discussed with the studio the idea of either bringing it back and bringing it back possibly with one or two of the guys who are now in their thirties as the coaches, and having a few more of them be their friends in their lives and having the kids come back. And I've been pitched a story two or three times. It hasn't been the right story yet, but the idea of doing that is something Steve and I have talked about and actually Disney and I have talked about. So I'm not going to fuel the rumor mill that it's going to happen, but I'm saying to you that the studio said to us, "We'd be interested if you come to us with the right story." And that's something that we've been all thinking about independently and I think that we may be coming closer to having the right idea for that.
It sounds like they may have found the right story to tell, after all. We sincerely hope that the entire Duck family make cameos at the very least if this project ends up getting picked up. Joshua Jackson was on board with a fourth film at one point, so maybe he'll take time out of his schedule to lace up his skates again. He previously stated,
The next generation should have its own version. Not that we need to come back as adults, but I hope my kids grow up and play pickup hockey and I hope that they have their own movies like my generation had those movies. In that way, yeah, of course, I'd be a part of something like that.
Everyone loves a good underdog story, so hopefully the youngins of today will appreciate this beloved fable. And perhaps Brill and Kerner will be able to take the creative liberties they need to bring fresh life to the storied Duck mythology. The series was described as a "dramedy" in THR, so will the tone be more gritty and less glossy? Quite frankly, we'll take whatever we can get. It's been over 25 years ago since the first film hit theaters and the phrase "Ducks fly together!" still means something today.