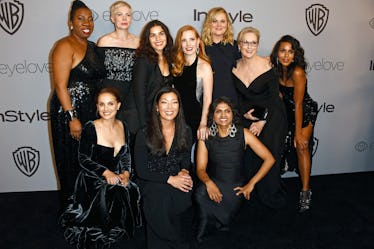 A #MeToo Movement TV Series Is Coming & The Premiere Is Right Around The Corner
Frazer Harrison/Getty Images Entertainment/Getty Images
Hollywood emphasized the #MeToo movement at the recent Golden Globes by inviting activists and wearing black to protest sexual harassment, but such a publicized stance on the efforts of Time's Up hasn't changed things overnight. No matter what industry you work in, it's clear that there is still a long way to go before a new day is truly on the horizon, as Oprah Winfrey said. In response to the shifting social tide, PBS has announced that it will soon air a five-part #MeToo movement series, and things like this are definitely what will help us reach a period of equality.
Premiering on Feb. 2, 2018, the series #MeToo, Now What? will feature both men and women's stories of how the powerful movement started and how its supporters can create lasting change. Upon announcing the premiere, PBS CEO Paula Kerger revealed that each part will highlight a certain element of sexual harassment. Zainab Salbi, who founded the organization Women for Women International when she was only 23, will serve as the show's host and executive editor.
Salbi was named one of PEOPLE's "25 Women Changing The World" in 2016 and became Arabian Business' "#1 Most Influential Arab Woman In The World" last year. For #MeToo, Now What?, Salbi will include segments both in the PBS studio and out in the real world.
Her organization Women for Women International specializes in helping women in countries facing war gain skills that will improve their situation:
Women increase their ability to earn an income with new skills that are in-demand. They learn about their legal rights, and they become knowledgeable about health and nutrition. The result: stronger women, stronger families, and stronger communities. This ripple effect is profound.
The PBS series will include discussions of topics such as pop culture's effect on women in the workplace, the role of race and class in #MeToo, and how men can get involved in the conversation. Perhaps most importantly, it will also focus on what to look forward to in this monumental time of change.
While those in Hollywood and the political field have been the most outspoken about the rise in publicized sexual misconduct allegations, the series will show guests from various professional industries. Viewers can expect to see activists, journalists, and celebrities who work in media, academics, business, and other areas share their views on the growing movement.
It's easy for critics to label celebrities' social activism as not genuine, but Salbi's role in the series actually provides a solid link between social justice workers and pop culture figures. Her talk show The Nida'a Show, which is directed at Arab women, was the first interview in the Arab region to feature Oprah. Similarly, Oprah has invited Salbi to speak on her OWN network several times. Is it safe to say that this is an official mark of Salbi's place on Oprah's Favorite Things list?
In a 2015 interview with Oprah, Salbi shared an experience she had in Bosnia that taught her how to proceed as a successful activist:
That first trip, I went and I said, 'I am here to help all women survivors of rape in Bosnia.' And I remember the woman who said, 'Then don't help us. Because if you're going to isolate us as 'only women survivors of rape'...then you're even stigmatizing us even more. Either you help all of us regardless of what we have gone through, or don't help us.' That has been the beginning of many lessons I have got.
PBS' decision to produce this series comes after broadcasters Charlie Rose and Tavis Smiley, who both had their own shows on the network, were accused of sexual misconduct late last year.
PBS cut all ties with Rose after claims of sexual harassment appeared against him in November 2017. A statement explaining the decision read:
In light of yesterday's revelations, PBS has terminated its relationship with Charlie Rose and cancelled distribution of his programs. PBS expects all the producers we work with to provide a workplace where people feel safe and are treated with dignity and respect.
Rose responded to the allegations, stating:
In my 45 years in journalism, I have prided myself on being an advocate for the careers of the women with whom I have worked. Nevertheless, in the past few days, claims have been made about my behavior toward some former female colleagues. It is essential that these women know I hear them and that I deeply apologize for my inappropriate behavior. I am greatly embarrassed. I have behaved insensitively at times, and I accept responsibility for that, though I do not believe that all of these allegations are accurate. I always felt that I was pursuing shared feelings, even though I now realize I was mistaken. I have learned a great deal as a result of these events, and I hope others will too. All of us, including me, are coming to a newer and deeper recognition of the pain caused by conduct in the past, and have come to a profound new respect for women and their lives.
When multiple allegations of misconduct arose against Smiley in December, the network suspended the distribution of his show and shared the following statement:
PBS engaged an outside law firm to conduct an investigation immediately after learning of troubling allegations regarding Mr. Smiley. This investigation included interviews with witnesses as well as with Mr. Smiley. The inquiry uncovered multiple, credible allegations of conduct that is inconsistent with the values and standards of PBS, and the totality of this information led to today's decision.
Smiley denied the claims and responded to his show's suspension by stating:
On the eve of the 15th season and 3,000th episode of my nightly talk show, I was as shocked as anyone else by PBS' announcement today. Variety knew before I did. I have the utmost respect for women and celebrate the courage of those who have come forth to tell their truth. To be clear, I have never groped, coerced, or exposed myself inappropriately to any workplace colleague in my entire broadcast career, covering 6 networks over 30 years. Never. Ever. Never. PBS launched a so-called investigation of me without ever informing me. I learned of the investigation when former staffers started contacting me to share the uncomfortable experience of receiving a phone call from a stranger asking whether, I had ever done anything to make them uncomfortable, and if they could provide other names of persons to call. After 14 seasons, that's how I learned of this inquiry, from the streets. Only after being threatened with a lawsuit, did PBS investigators reluctantly agree to interview me for three hours.
In the reveal of #MeToo, Now What? at the Television Critics Association press tour, Kerger alluded to the allegations against both men:
As the past year illuminated, our nation is at a crossroads on many issues of consequences, with divergent views about a path forward. It is our job in the media to shed light on these issues. And in some cases, we've been a part of the story, including the seismic #MeToo movement.
Creating such a specific, powerful view on the groundbreaking movement is an ideal way to kick off 2018. Although a specific air time hasn't been confirmed, a look at the PBS schedule on Friday, Feb. 2, suggests that Part 1 of the series will begin at 8:30 p.m. ET.