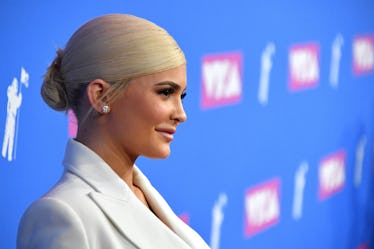 Kylie Jenner Is Likely Launching A Skincare Line/ Taking Over The Entire World
Dia Dipasupil/Getty Images Entertainment/Getty Images
It's no secret that the Kardashian-Jenner sisters are all moguls in their own right. Beauty, fashion, modeling, apps—the businesses they've started run the gamut. You'd think that their plates would currently be full, but it appears that a new venture is in order, specifically a Kylie Jenner skincare line. That's right, if you're a fan of Kylie Cosmetics it appears you'll soon be able to shop a cohesive line of products to use pre- and post-makeup, meaning achieving that indescribable Kylie glow will be more attainable than ever.
Okay, but really. Is Jenner Supermom or something? The 21-year-old just gave birth to her baby, True, in February and yet she's somehow already thinking about her next step towards world domination. (As Refinery29 reports, she's set to become the youngest self-made billionaire in the world, so she's already pretty dang close.) The woman is a machine, and I mean that in the most impressive way possible.
According to the United States Patent and Trademark Office database, Kylie Cosmetics registered three trademarks with the agency on September 27, all of which appear to apply to a new skincare line. Two of the applications—"Kylie Skin" and "Kylie Skin by Kylie Jenner"— would apply to products including moisturizers, scrubs, serums, masks, and more. The third, "Kylie Skin," on the other hand, would apply to retail store services.
While there's no way to know exactly what the new launches might include, there are a few ways we can make a decently accurate guess. Considering Kylie Cosmetics includes a range of highly developed and perfected products, it's safe to say its sister skincare line would be equally as top-notch. Jenner has money to put into figuring out the best, most effective, and highest quality formulas, so it's likely the line will rival competing high-end lines.
Of course, the skincare products Jenner currently uses will undoubtedly serve as inspirations for own line, and thanks to Into the Gloss, who put together a cohesive list of all the products she's mentioned loving, we might be able to tell what kinds of offerings she's brewing.
She evidently loves Neutrogena cleansing towelettes ("They have so many different kinds there's literally something for everybody—Night Calming, Deep Clean, Hydrating and Pink Grapefruit) and lives for a good face mask. The Sephora Collection Rose Face Mask and Oh K! Intense Hydration Snail Mucin Mask are among her favorites. I think it's safe to say a mask or five will likely be part of Kylie Cosmetics' lineup.
Jenner is also evidently an avid Kiehl's fan. She uses their Kiehl's Blue Herbal Gel Cleanser, Rare Earth Pore Refining Toner, and Ultra Facial Cream Intense Hydrating Lotion—could so-minimal-it's-cool packaging be part of her brand's shtick?
And finally, Jenner has also mentioned loving Mario Badescu Drying Lotion for its blemish fighting powers. Hopefully that means a pimple-busting product will be among her offerings.
Seeing as Jenner has been going makeup free in selfies and shoots alike as of late, it's no surprise she's been focusing on skincare. Makeup is amazing but good, healthy skin is even better. I can't wait to see what she comes up with.