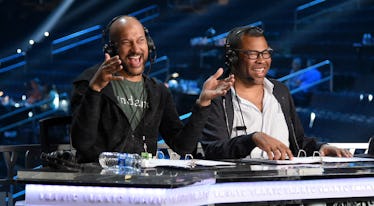 Key & Peele Are Reuniting For An Epic New Netflix Movie & Fans Can't Wait
Mike Coppola/Getty Images
Jordan Peele may be an Oscar-winning screenwriter and director now, but that does not mean that he's done working with his comedy partner Keegan-Michael Key. The beloved comedy team of Key and Peele is reuniting for a new Netflix movie, and it will be a totally new look for the two comedians.
Keegan-Michael Key and Jordan Peele have signed on to star in a new stop-motion movie from the director of the animation classics The Nightmare Before Christmas and Coraline, Henry Selick. Yep — we won't actually be seeing Key and Peele together in this new movie, but the pair will be voicing the title characters in the upcoming Netflix stop-motion film, entitled Wendell and Wild. The hellish new movie will transform Key and Peele into demon brothers, who will try to scheme their way out of hell by facing off against their nemesis. Peele will also be putting his Oscar-winning writing skills to good use by contributing to the Wendell and Wild script.
This is not the first time that Jordan Peele and Keegan-Michael Key have brought their buddy act to an animated film: In 2016, the duo voiced a pair of wolves in Storks. The comedy team rose to fame after co-starring on Mad TV throughout the 2000s, and the launching their own beloved sketch comedy series Key & Peele, which aired from 2012 to 2015. They then teamed up for the 2016 crime comedy Keanu.
Although Keegan-Michael Key and Jordan Peele rose to fame as a comedy team, the comedians have also carved out impressive solo careers since their sketch series ended three years ago.
Keegan Michael-Key has become one of the most ubiquitous comic actors in the biz, booking guest and recurring roles on pretty much every TV comedy and starring in major movies like Don't Think Twice and Why Him?. He currently stars in the Netflix ensemble dramedy Friends from College and will voice one of the hyenas in the upcoming live-action Lion King adaptation.
For his part, Jordan Peele has started to make more of a name for himself behind the camera. Although he has continued to do comedy work through animated roles in Captain Underpants and Big Mouth, Peele made the jump to prestige recognition after writing, directing, and producing his genre-busting horror movie Get Out last year, which won him the Academy Award for Best Original Screenplay earlier this month. Now, Peele is set to produce Spike Lee's upcoming crime drama Black Klansman and is working on another directorial feature.
Not only for fans of Key & Peele, the news about Wendell and Wild is also extremely exciting for anyone with a passion for animation. Henry Selick is probably the biggest name in stop-motion animation thanks to his beloved movies, which include The Nightmare Before Christmas, James and the Giant Peach, and Coraline. But the director and animator has not released a new movie in nearly a decade — his last release being 2009's horror-tinged, alternate-dimension fantasy movie Coraline.
Henry Selick has a few other projects in the works right now in addition to Wendell and Wild — he is making his first foray into live-action with an adaptation of the 2011 dark fairy tale collection A Tale Dark and Grimm, and is still working to release his supernatural stop-motion thriller The Shadow King after Disney declined to produce the project. He will also direct the pilot episode for the TV adaptation of the recently released horror platform video game Little Nightmares.
Netflix has yet to set an official release date for Wendell and Wild, but I know I already cannot wait to watch this movie!