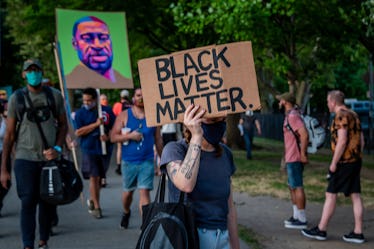 This Glossary Of Anti-Racism Terms Will Help You Speak Out
Erik McGregor/LightRocket/Getty Images
In light of ongoing protests for racial justice and against police brutality, many young people are starting to have conversations about race with their friends and family members. Whether you're an activist who has long been steeped in anti-racist work or someone who wants to be a better ally, it is useful to have a firm grasp on anti-racist language before trying to talk about it with someone who is new to the topic. To help you get started, below you'll find a glossary of anti-racism terms all activists and allies should know.
Talking about race, privilege, power is often not easy or comfortable, but it is extremely necessary. In order to talk about these subjects in an accessible way, you first need to familiarize yourself with some key terms and phrases. That way, you will be better equipped to answer questions about everything from white privilege to defunding the police. This glossary is meant to be a starting point, and to learn more about anti-racist work, there are many reading lists and resources that can help you dive deeper into each of the below topics.
Here are some important terms and phrases you may encounter as you engage in anti-racist work, accompanied by definitions to get you started. This list is not exhaustive, and will be updated.
This article was originally published on