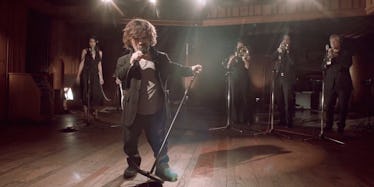 A 'Game Of Thrones' Pop Album Is Coming, So Get Ready To Start Crying In The Club
NBC
Next year will be the final time Game of Thrones airs a new season. While it's not the end of Westeros completely (there are several spinoffs under development), none of them are guaranteed to bring in the sort of intense media excitement of the original. Fans can expect everyone to get in on the final season act, from George R.R. Martin maybe releasing a book to a Game Of Thrones pop album, where artists from all over the charts lend a track.
It's not as outlandish as some of the other Game of Thrones merchandise that will be arriving in 2019. Though the soundtrack to the show is composed by Ramin Djawadi, the show is no stranger to pop music. There have been several pop singers and bands cast in the series, including Coldplay's Will Champion, who played "The Rains of Castamere" at the Red Wedding to Sigur Rós, who played other tunes at the Purple Wedding. Ed Sheeran was the most obvious cameo last season, but he wasn't the only one. Members of the heavy metal band Mastodon also had cameos as wights.
Many of the cast members have music careers on the side, including band members Natalia Tena (Osha), Jerome Flynn (Bronn), and Michiel Huisman (Daario), plus solo acts Iwan Rheon (Ramsay Bolton), Carice Van Houten (Melisandre), Kristen Nairn (Hodor), and Raleigh Ritchie (Greyworm). And that's not counting the time the whole cast did Game of Thrones: The Musical for charity. Then there's Djawadi, who is on tour with his Game of Thrones music, selling out Beyoncé-sized arenas playing the soundtrack with a full orchestral accompaniment.
So when HBO announced this week they were working with Columbia Records to create a pop album of music "inspired by" the series, it only made sense.
According to Billboard Magazine:
As Game of Thrones storms to a conclusion next year, Columbia Records and HBO have teamed up for an officially licensed album, Music Inspired by Game of Thrones. While a full track listing wasn't available at press time, a release announcing the project teased that it would feature songs inspired by the hit series and showcase artists 'from diverse musical genres.'
This is not the first time HBO has done a companion album "inspired by" Game of Thrones. Back in 2014, there was a mixtape that dropped to coincide with the return of Season 4 entitled Catch the Throne, which was followed up a year later with the sequel Catch The Throne Vol. 2. (The far more appropriate Watch the Throne was already taken by Jay-Z and Kanye West.)
The year 2014 was a big one for Game of Thrones-inspired music and videos. Diddy, back when he was in one of his Puff Daddy phases, created a video that was fully inspired by Game of Thrones, while Grimes made her own video debut as a Dany lookalike in her video for "Go."
Who exactly will appear on this final album associated with the series remains to be seen. Hopefully, the show will include some of their already-in-house performers to help promote their musical careers. (Seriously, everyone needs to listen to Iwan Rheon's album Dinard if you haven't already.) The production certainly has enough talent for it. But there will also be Game of Thrones diehard musicians who will be clamoring to be included as well. With that kind of competition, the race to get a slot on the record will be as competitive as the fight for the Iron Throne.
Game of Thrones' final season will start airing on HBO sometime in 2019, whenever it apparently feels like it.