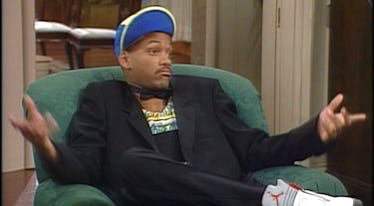 A 'Fresh Prince Of Bel-Air' Reboot May Be Coming, But It's About A Fresh Princess
Warner Bros.
With every '90s sitcom getting a reboot these days, it should come as no surprise that studios are eyeing The Fresh Prince of Bel-Air next. Following revivals of '90s-era hits like Full House, Roseanne, Will & Grace, and more, a long-rumored Fresh Prince of Bel-Air reboot is reportedly in talks to finally happen, except with an unexpected twist. The possible reboot will be a gender-swap of the classic Will Smith series, called Fresh Princess, according to TMZ.
Warner Brothers Television, which currently owns the distribution rights to Fresh Prince of Bel-Air, has apparently begun the legal process of trademarking the name Fresh Princess. While that is not an official announcement of a reboot series, it definitely raises some eyebrows. After all, rumors about a Fresh Prince reboot have been buzzing for quite some time now, and Fresh Princess sure sounds like it couldn't possibly be a completely separate entity from the '90s sitcom that made Will Smith famous.
Will Smith actually talked about what a possible Fresh Prince of Bel-Air reboot might look like a couple months ago on the Graham Norton Show. He said that if he were to take part in a new iteration of the show, he'd probably have to take over the fatherly Uncle Phil role, given his age. That could totally make sense with this Fresh Princess possibility — obviously Smith would be stepping out of the lead part for the gender-swapped version of the show, but it would make sense for him to play the father part. It's a similar path that another beloved family sitcom from the '90s took when it got a recent reboot: Boy Meets World turned into the gender-swapped Girl Meets World by giving Cory and Topanga the parental roles, while focusing on the adventures of their daughter. Could Fresh Prince(ss) be planning on following that same structure?
Of course, it is still way to early to know anything about what this possible Fresh Princess series may involve — it has not even been officially announced yet — but it's still fun to speculate. One possibility is that the new series could be a television turn for Will Smith's daughter Willow Smith. After all, if Will Smith does agree to play a paternal role in the reboot, then who better to take the lead than his own daughter?
Although Willow Smith is best known for her work in music and fashion, she also has a few acting credits under her belt, such as roles in her dad's action flick I Am Legend and the Nickelodeon show True Jackson, VP. If Smith does star in a Fresh Princess reboot series of her dad's breakout show, then it would also be her first major acting role ever.
The Fresh Prince of Bel-Air was a family sitcom that ran for six season on NBC from 1990 to 1996. When it first began, Will Smith was already known as a popular rapper, but the show marked his first foray into acting.
Rumors about a Fresh Prince of Bel-Air reboot started gaining traction last summer, when the main cast of the series reunited for a photo together. Although the show ended over two decades ago, the Fresh Prince cast seems to have remained close for the most part, and fans online have begun clamoring for a reboot series for some time now. Although Will Smith has talked about the possibility of a reboot, this reported trademarking of Fresh Princess is the first bit of actual proof we have that studios are getting serious about a reboot. Although it is still too early for any official word, things certainly sound good for Fresh Prince fans.