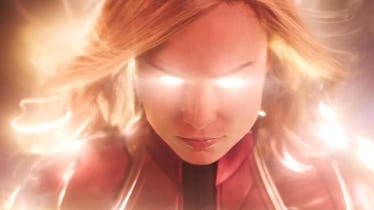 A Female Marvel Superhero Show Is Coming To ABC, So Get Ready For Some Serious Girl Power
Marvel
Netflix announced this week the third season of Daredevil will be arriving next month. This will be the fourth Marvel series this year and counting for the streaming service. Meanwhile, over at ABC, while it's officially owned by Disney, the same entity that owns the MCU, Agents of S.H.I.E.L.D. has been delayed until next summer, leaving them without any Marvel tie-in shows prime time since 2013. But not to worry, there's already a new show in the works. Sticking to the recent trend, ABC is developing a female Marvel superhero show to run sometime next year.
Marvel maybe be playing catch-up in the theaters when it comes to female lead superhero films, with rival DC's Wonder Woman landing almost two years ahead of Captain Marvel. But on the smaller screen, they've actually been doing pretty well. Agent Carter ran for two years from 2015-2016. Jessica Jones is going into a third season over on Netflix. Tandy Bowen makes up one half of the team of Cloak & Dagger over on Freeform. Meanwhile, their own streaming service, currently nicknamed "Disneyflix" until they announce the real one, is promising a standalone Marvel series for characters like Scarlet Witch, with the idea of bringing Elizabeth Olsen over from the big screen to star in her own show.
But Marvel still has quite a roster of other female superheroes to pull from. Some of the best-known characters are from the X-Men canon, a pantheon not open for the MCU to draw from until summer of 2019 when the merger with FOX finalizes. But there are quite a few others who are famous in their own right, including She-Hulk, SpiderGirl, and others.
According to Deadline, which broke the news:
Wonder Woman writer Allan Heinberg is aiming to bring more female superheroes to the screen, this time in television. ABC has given a production commitment to an untitled hourlong drama from Heinberg, Marvel Television and ABC Studios. Written by Heinberg, it is about female characters with superpowers.
Putting their ears close to the ground, Deadline names some of the characters rumored to be part of the series:
In typical Marvel fashion, further details are being kept close to the vest, but I hear the drama is based on lesser-known Marvel characters. There have been a number of fairly obscure female superhero team-ups that have appeared sporadically in Marvel comics over the years, including A-Force, Lady Liberators and Fearless Defenders.
For those who aren't familiar with these teams:
The A-Force's current roster includes some more recognizable characters such as Captain Marvel and Medusa (from The Inhumans), as well as She-Hulk, Singularity, Dazzler, Nico Minoru and Dazzler Thor.
The Lady Liberators also includes She-Hulk, as well as the Invisible Woman, Storm, Thundra, and Valkyrie.
The Fearless Defenders are a group run by Valkyrie, which features Misty Knight, Annabelle Riggs, Danielle Moonstar, and Warrior Woman.
These lists strongly suggest She-Hulk and Valkyrie will be a part of whatever cast list gets dreamed up, as well as tantalizing Netflix and movie-verse crossover possibilities.
The still-untitled project is considered a "strong contender" by Deadline to be greenlit once a pilot is shot. If so, the series could arrive by the 2019-2020 TV season.