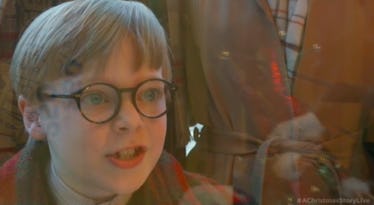 7 'A Christmas Story Live!' Memes That Are Just As Good As The Actual Show
Fox
Fox's live musical adaptation of A Christmas Story became the talk of Twitter on the night of Dec. 17... for better or for worse. When most viewers tuned into the live event, it became apparent that they didn't exactly realize what they were in for. Twitter exploded with viewers who didn't realize the Christmas classic had been turned into a musical, and that the previously unseen narrator would physically appear in almost every scene in the form of a morose Matthew Broderick. It didn't take long before some hilarious A Christmas Story Live memes on Twitter began blowing up.
Although most viewers seemed surprised to learn that A Christmas Story Live included musical numbers, it had actually first been adapted into a musical back in 2009 (which made it to Broadway in 2012) by the composers behind La La Land and Dear Evan Hansen. Given that most of the people watching had not seen these musical numbers inserted into A Christmas Story before, they had a lot to say about the adaptation online. A Christmas Story Live included a fresh take on a bunch of the classic scenes from the beloved 1983 holiday classic, including that tongue-stuck-to-a-pole scene, the infamous leg lamp, and of course, tons of mentions of that Red Ryder BB gun. And along with those iconic moments, the live special also included a bunch of new stuff, such as all of the songs of course, Matthew Broderick's narrator walking around in all the scenes, and a big standout musical number for Mrs. Schwartz (Ana Gasteyer) dedicated to the joys of Hanukkah.
With the three hours full of craziness, Twitter was given ample opportunity to joke around and make some hilarious memes out of the outrageous scenes from A Christmas Story Live. While the musical was going down on Fox, another whole party was happening on Twitter. Check out some of the funniest memes from A Christmas Story Live below:
Some of Twitter's favorite moments seemed to come from favorite comedy and musical stars Jane Krakowski and Ana Gasteyer. Krakowski is a Tony-winning Broadway vet who's also proven her comedy shops on Tina Fey's shows 30 Rock and Unbreakable Kimmy Schmidt, and she had one of the most dazzling moments of the night as Ralphie's teacher Miss Shields when she led a fantasy tap dance number for the song "You'll Shoot Your Eye Out." But also, like, why did they give here character OCD for no reason? Weird.
Ana Gasteyer had one of the most surprising and exciting moments of the night when she belted out her Hanukkah number "Market for a Miracle," which actually did not even appear in the Broadway show. The new song was written specifically for Gasteyer in order to add some color to the live TV adaptation, but despite it being the most recent addition to the show, it was the standout number of the night for most viewers. Of course, Gasteyer was primed to pull off any big musical number after her years on Broadway, most notably playing Elphaba in Wicked.
And then there was the strange issue of Matthew Broderick. Most viewers did not seem to really connect to his sad-seeming, omnipresent portrayal of the narrator/older Ralphie. In the 1983 original movie, the narrator is simply a voice that we never see in person on screen, but the live version did the complete opposite of that, showing Broderick walking around pretty much every scene and talking about what was going on.
In the end, the three-hour live musical adaptation wound up being a relatively harmless and fun-filled reimagining of the original, and a great way to introduce a mainstream audience to the 2009 Broadway musical. But still, it's always fun for Twitter to make a few jokes.