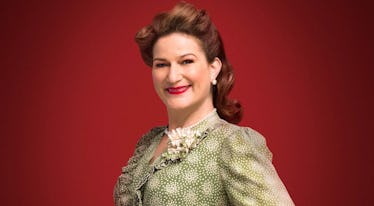 'A Christmas Story Live!' Included A Hanukkah Song & Twitter Loved It
Fox
A Christmas Story Live added a welcome bit of inclusivity from the classic movie with a big, jazzy Hanukkah number, and it became the biggest hit of the night! In the biggest divergence from the 1983 Christmas classic, Fox's live musical adaptation threw in a whole number for the side character of Raphie's friend's mom, Mrs. Schwartz, and Ana Gasteyer completely destroyed it. Viewers were quick to note that Ana Gasteyer's Hanukkah song in A Christmas Story Live was the standout moment in the show.
Ana Gasteyer's breakout Hanukkah number was the most surprising and arguably most exciting part of the entire three-hour A Christmas Story Live special. All of the other songs in the live musical event were based on the 2009 show A Christmas Story: The Musical (written by Pasek & Paul, the buzzy team behind recent smashes La La Land and Dear Evan Hansen), but the Hanukkah number was not in that original musical. Instead, Ana Gasteyer's big song, "Market for a Miracle," was written recently, especially to be included in the Fox special. It is also a welcome injection of some Hanukkah joy into what was once an exclusively Christmas-themed story.
Check out some of the responses to the new song below:
And fans can also thank that new Hanukkah number for even getting Ana Gasteyer involved in A Christmas Story Live in the first place. The Saturday Night Live alum and Broadway vet previously also had a part in Grease Live, and she told Entertainment Weekly that it was the introduction of "Market for a Miracle" that got her to agree to take on the role of Mrs. Schwartz:
Basically the telecast required one more number because of the way the commercials were paced, so [Pasek & Paul] looked at the piece overall, and they decided there would be a really great moment for a Hanukkah number. The show didn't have a Hanukkah number and so they called me up and said, 'Hey listen, we're thinking about writing a Hanukkah number and we'd like to write it for you, and can we do that?' And I said, 'Why yes, why thank you!'
Ana Gasteyer's big, jazzy, impressive voice may have been surprising for some viewers who may have only known her for her comedic performances on Saturday Night Live before now, but Broadway fans already knew that if Gasteyer was given a solo number it would be the breakout of the show. Gasteyer has been a theater star for nearly two decades now, having starred as Elphaba in Wicked and Mimi Schwinn in A New Brain. Theater fans were quick to remind the uninitiated that Ana Gasteyer has proven her musical talents long before A Christmas Story Live:
And in case her past theater credits weren't enough to prove her amazing voice, Ana Gasteyer also released an album full of big jazz standards in 2014 called I'm Hip. If you were a fan of Gasteyer's bombastic "Market for a Miracle" performance in A Christmas Story Live, then may I also recommend that you give her full-throated cover of the jazz track "One Mint Julep" a listen as well — it served as the lead single off I'm Hip and also came with a really fun music video.
I guess this year, A Christmas Story finally became A Hanukkah Story thanks to Ana Gasteyer's superb performance. Writer Jonathan Tolins told Entertainment Weekly that writers had included the new song since in the original movie, Ralphie never really confronted the lie he told that got his friend Schwartz in trouble with his mother. Well, "Market for a Miracle" let that moment happen.