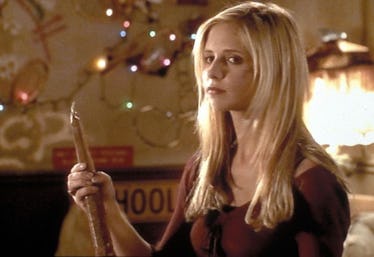 A 'Buffy The Vampire Slayer' Reboot Is On Its Way & Fans Are So, So Excited
Rex/Shutterstock
For a few months now, rumors have been swirling that Buffy Summers could be making her way back to the silver screen. Now it sounds like a reboot of the culture vampire series is happening after all, and devoted fans are understandably losing it. Get ready for all the '90s nostalgia, because a Buffy The Vampire Slayer reboot is coming to your TV so soon. Here's everything they've revealed so far.
Per the Hollywood Reporter, Fox 21 TV Studios, which is the cable section of 20th Century Fox TV, announced that the Joss Whedon classic will be getting the reboot treatment with head writer and showrunner Monica Owusu-Breen at its helm. While some longtime Buffy fans might be disappointed that Whedon won't be heading the revival, he will still have plenty of influence over the updated series. If Owusu-Breen's name sounds familiar to you, it's because she teamed up with Whedon on ABC's Agents of SHIELD, and the pair have reportedly been working on the new Buffy script together.
When I first heard the news, I'll admit I was a little conflicted. Sarah Michelle Gellar and James Marsters will always be Buffy and Spike to me, and it's hard to imagine another actor and actress stepping into their shoes. Plus, didn't the show pretty much teach us that we shouldn't raise things from the dead? Whedon seemed to express the same concerns in an interview with the Hollywood Reporter last March.
"I see a little bit of what I call monkey's paw in these reboots," he told the publication. "You bring something back, and even if it's exactly as good as it was, the experience can't be. You've already experienced it, and part of what was great was going through it for the first time . . . You don't want that feeling that you should have left before the encore."
Ultimately, it seems like he had a change of heart, as Fox and 20th TV chairman and CEO Gary Newman revealed in March that the choice to revamp the series would be ultimately up to him. Honestly, if Whedon is now on board with the reboot, so am I.
So, what should we all be expecting from the updated version of Buffy? According to Variety, a black actress will take over the role of Buffy. And while our favorite characters will still be battling mythical creatures and supernatural forces, the setting will be very contemporary. The producers said, "Like our world, it will be richly diverse, and like the original, some aspects of the series could be seen as metaphors for issues facing us all today," per Deadline.
No potential actors have been thrown in the ring yet, although Gail Berman, Joe Earley, Fran Kazui, and Kaz Kazui have been named as executive producers on the series. In addition, it's TBD where you'll be watching the Buffy The Vampire Slayer reboot. According to the Hollywood Reporter, producers at Fox 21 TV Studios will pitch the series to a variety of streaming services as soon as this summer, so it's only a matter of time before your favorite '90s series makes its way back to your TV.