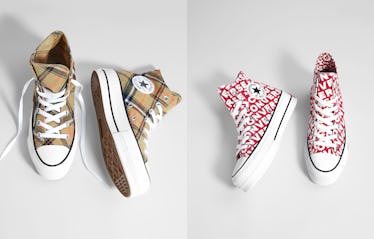 Converse Is Dropping Plaid Sneakers For Fall & They Couldn't Be More On Trend
Bershka
Ultra dreamy collaborations don't happen every day, especially when they're also affordable AF and involve two of your favorite everyday brands. Case in point: the Bershka x Converse collaboration, which is dropping in a mere matter of days (September 8, to be exact!) and is an exceedingly exciting partnership. Both retailers are beloved for their offerings that are both cool and won't break the bank, while each of them brings a certain singular flair that makes the collaboration truly one-of-a-kind.
Bershka brings the spot-on trendiness — as Zara's sister brand, would you expect anything less? Whatever walked the runways in Paris, Milan, New York, and London will likely pop up on one of Bershka's racks, just in way more accessible form. Converse brings tradition, consistency, quality, and that iconic shoe silhouette the world loves so much. Together, the two brands make an exceptional pair — take a look below at what their collaboration entails and I think you'll agree.
The sartorial power couple put their heads together on four new imaginings of the classic Chuck Taylor, playing with platforms, logomania, and prints like never before. But the brands didn't stop there. They also designed a full look of clothing to accompany each shoe, meaning you can get an expertly curated head-to-toe outfit in one fell swoop.
The first style is definitely the preppiest and earns that title thanks to its fuzzy plaid fabric. The rest of the shoe is pretty traditional and features a white sole, rubber toe caps, white laces, and silver hardware. The outfit is an awesome plaid skirt and blazer combo. Wear them together to channel your inner Allie McBeal or as separates for Savile Row-inspired coolness no matter how you style them.
If Yeezy is your aesthetic, this next look will probably be your favorite. The shoes are classic Chuck Taylors but they've been monogrammed with the classic Converse arrow and star logo in shades of brown. They're reminiscent of Louis Vuitton's emblematic print, just way cheaper. In terms of the clothing, the star is the buttery gold dress that boasts all-over ribbing, a turtleneck, and slightly ballooned sleeves. It's one of those pieces you can throw on in a flash and look impeccably cool in. A patent nude cap and fanny pack finish off the look.
The third style is unique in that it strays from the classic Chuck Taylor silhouette via chunky platforms. They're elevated, literally. "CONVERSE" in white lettering is scrolled across a red background, giving the shoes a super Americana vibe. This vibe is further amplified by the denim jumpsuit the shoes are paired with. It's decidedly more utilitarian than '70s and boasts a winged collar and waist belt.
And finally, we've got another pair of plaid Converse, but these ones also rest on elevated platforms and boast that same soft feel as your favorite flannel shirt. They're preppy grunge at its coolest and pair perfectly with their look: a maroon tracksuit.
The above clothing is available now on Bershka.com, while the shoes will drop on Sept. 9.