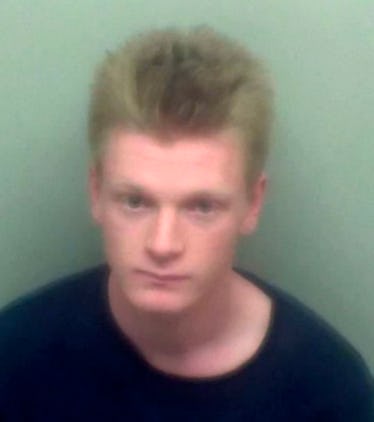 A 17-Year-Old Who Was Filmed Raping A Girl Was Reportedly Called "Legend" By His Friends — UPDATE
Kent Police
I could think of a lot of words I would use to describe a convicted rapist. Disgusting. Evil. Heartless. Cold. I could keep going but I'll spare you my never-ending list of synonymous adjectives.
UPDATE: Jamie Leppard was 17 years old at the time the crime was committed, according to the Daily Mail.
EARLIER: What's one word I would probably always leave out of that list? Legend. Yeah, sorry. As far as I'm concerned, someone who forcefully has sex with an unwilling partner is not a "legend" in any sense of the word.
Unfortunately, it turns out not everybody agrees with me on that front.
Let me tell you a story (it's true).
Jamie Leppard, 17 at the time, and his 18-year-old friend, Tommy Conway, had been drinking with their good friend, 20-year-old Harry Ludlow in March last year when they decided to meet up with an 18-year-old girl and her female friend after a birthday party, according to Metro UK.
Late at night, the group of teens went over to Leppard's house while his parents were away to play some drinking games. The 18-year-old girl was eventually led upstairs to Leppard's room, where he allegedly sexually assault her as she lay unconscious.
The victim's friend finally burst into the bathroom shouting when she found Leppard on top of her friend. "Oh sh*t," she said to herself as she started to film the assault.
Clips from the film she took that night were eventually used in trial at Maidstone Crown Court in the UK to help convict Leppard and Conway, according to the Daily Mail.
In the examination of the clips, prosecutor Nina Ellin explained to the court what it was that made the videos so incriminating,
The important thing to look at is when you see her face she is clearly unconscious or out of it, or passed out – or just asleep. Her head is back and she is not reacting, even with three men on top of her. She was lifeless. That must have been obvious to Jamie Leppard.
The court then heard about how Conway and Ludlow ran into the bedroom following their friend's lead. Conway allegedly jumped on top of Leppard to get in on the action while he was raping the victim.
The two men allegedly went on to mimic sex movements and groaning noises before the girl's friend went downstairs.
Metro UK reports the victim's friend came back up to the bedroom to find Leppard raping the victim from behind as Conway was lying near them. Ludlow and Conway reportedly slapped the girl's naked bottom. Then, Conway proceeded to ask for a "turn."
Finally, Leppard stopped assaulting the unconscious victim, saying,
No way. She is asleep innit, a girl that's asleep innit, that's technical rape.
The group then left the victim lying face down naked on the bed.
Judge Philip Statman confirmed the illegality of their actions, adding that the victim had been "humiliated and degraded," according to Metro UK:
She was comatose through drink. She was completely unable to consent because she was unconscious.
Leppard was later convicted of one count of rape and acquitted for another, and Conway was convicted of two counts of sexual assault, according to the Daily Mail. Leppard was sentenced to eight years in youth custody and Conway was given a lesser sentence of two years and five months in youth custody.
Jamie Leppard is a convicted rapist. How do his friends describe him? Jamie's friends reportedly called him a "legend."
Citations: Teen hailed a 'legend' after he was filmed raping comatose girl is jailed (Metro News)