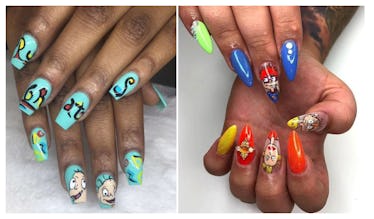 These 'Rugrats'-Themed Nail Art Designs Will Blow Your Nostalgic '90s Mind
If you've been at all paying attention to the latest fashion and beauty trends, you'll know that everything '90s is cool again. Chokers, platform shoes, mom jeans, you name it, it's back. One of the most exciting trend applications, though, is that '90s nail art ideas are everywhere.
'90s trends have been everywhere from fashion week runways to TV show reboots as of late. One particularly exciting remake is the new Rugrats TV show and movie, which, unfortunately, won't come out until November 2020. How to bide the time for the next two years, then? I can hardly wait the seven minutes for my stovetop macaroni and cheese that I'm currently making to cook! Well, the same place that brings me so much other joy: Social media.
'90s-inspired nail art has been popping up all over my Instagram and Twitter feeds, particularly Rugrats nail art, and it's filling heart with so much joy. So, grab your nail polish remover, take off the color you've got on now, and make an appointment at your local nail salon, because you're going to want to replicate these designs ASAP. Which one do you think Angelica would get?
One extraordinary nail artist, who goes by the name @bpolished_ on Twitter, wrote out the iconic Rugrats font on a client's nails, complete with images of some of the babies.
The same artist posted a video to show a closeup of the designs and captioned the photo "NAIL ART MADNESS!" and it's so true.
Another talented technician painted a few more of the characters, including Tommy, Chuckie, Angelica, and Susie. This incredible set also has some of the iconic graphics from the show, and some iridescent rhinestones, because there's no such thing as too much '90s.
"We have to take a sec' to talk about these INSANE hand painted #nafdetailedart Rugrats nails by our expert #nafamee," tweeted out Naf! Salon which is located in Scotland. The '90s trend is international, y'all! Also extra points for including Angelica's creepy doll, Cynthia.
Matte Rugrats nail art, I die.
So much nostalgia, I don't know what to do with myself!
This artist has some amazing detail on her nails, and loves to do other '90s-inspired art – check out her Arthur nail art on Instagram!
How could I forget about Nickelodeon slime?! I'm into this Tommy Pickles-inspired blue slime, too.
Tommy, Chucky, the Rugrats logo, green slime, I'm done.
Can't forget about the Pickles' family dog, Spike!
Cynthia is honestly the most underrated Rugrats character.
She was the epitome of a '90s girl, amiright?
Some fans of the trend skipped the Rugrats-specific homage and went straight to the source of it all: Nickelodeon. "I have Nickelodeon nails and I've never been more happy," tweeted one excited gal about her slime nails.
"Did I share with twitter my accidental nickelodeon nails?" One person subconsciously gave herself slime nails because that's how pervasive this '90s trend is and I love it.
This salon had a client that wanted to pay tribute to all of her favorite '90s cartoons. I spy Rugrats, Doug, The Powerpuff Girls, and Hey Arnold!
Too good, bye.