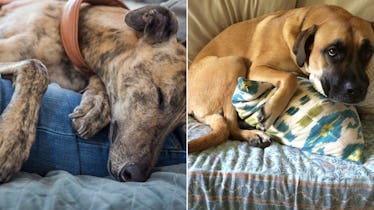 9 Times Really Large Dogs Think They're Small That'll Make You LOL
Dogs are great for so many reasons. They cheer you up when you're down, have a tendency to do the silliest things, are incredibly loyal, and always have a kiss for you when you least expect it. All in all, dogs are amazing souls who just give so much unconditional love to the people of this earth, that sometimes, it doesn't seem we deserve it (verdict is still out if we actually do or not). One of the wackiest things some do is when large dogs think they are small dogs. It makes for hilarious photos and just a moment when you're like, "Is this really my dog?"
Just like some smaller breeds have been known to roughhouse with larger dogs, big doggos will sometimes play the small baby. They are still loved for it, of course. When looking at these pics and videos, it's clear to see you can't stay annoyed at them for long if they're chilling on your chest and you can't see the TV. I mean, humans sometimes do the same thing. How many times have you snuggled up to a loved one so you could feel small or protected? Or have you ever just curled up on the smallest part of your bed, with pillows around, to make your own little sanctuary? Yes, most of us probably have. So cut these dogs some slack, and go goo-goo over their adorableness.