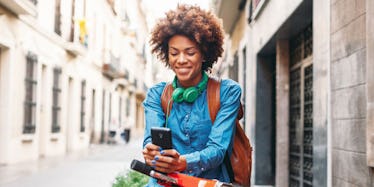 9 Funny Texts To Stay On Your Date's Radar If You've Just Started Going Out
Making the first move is hard. Even digitally, even after you've met them. It's hard. You have to think about what to say, how you want to come across, and determine the point of it. Do you want to just chat with that person if you're texting them? Do you want to solidify plans in the future? If you're thinking about things to text when you just started dating, don't worry. Many people can find themselves in this predicament. I know my friends and I often chat about what we're saying to our latest crush, but sometimes you need a little kickstarter to get things flowing.
One time, I texted a guy I liked about the Anna Delvey story that was storming the internet. He read the story, we talked about our favorite moments of the article, how wild a ride it was, and we ended up getting complementary t-shirts to honor the legendary scammer. Even though we're friends now, it's something that we can reference and joke about all because I did send that text. So believe in yourself, sending that text can usually only benefit you, especially if you already have an established connection from a couple of dates. Read on for some text suggestions when you're feeling a little bit stuck.