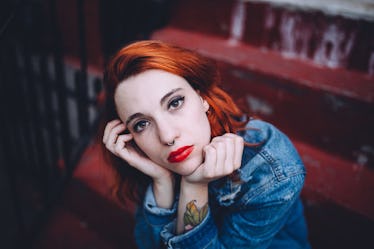 If Your Partner Says These 9 Things To You, Experts Say They Might Be Verbally Abusive
When I was a teenager, I was addicted to Lifetime movies. We had really limited cable, so I ended up watching a ton of what my friends jokingly referred to as the "woman in peril" channel. Honestly, it earned the name. It seemed like every movie was about a beautiful but naive woman who falls for the wrong man and has to fight for her freedom. They were an over-the-top guilty pleasure — but what they weren't was subtle. When I started dating, these movies didn't exactly prepare me to look for the signs your partner is verbally abusive that could often be more covert and difficult to discern. Which is exactly why it's so important to know what the signs of actual, real-life verbal abuse look like, from the experts themselves who are trained to spot them.
If you think you might be in a verbally abusive relationship but aren't totally sure, there's actually a reason it's so unclear. It's because abusers are often good at hiding their behavior at first. In fact, as Dr. Fran Walfish, Beverly Hills family and relationship psychotherapist and author of The Self-Aware Parent explains, "Even the most skilled, competent psychologist and psychiatrist can 'miss' spotting a well-oiled sociopath." While not all people who are verbally abusive are sociopaths, they can still be hard to identify. So, with that in mind and in honor of October's Domestic Violence Awareness Month, here are the behaviors the experts say to pay attention to, because they could be signs your partner is verbally abusive.