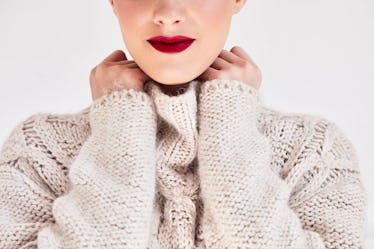 9 Festive Sexts That Are Sure To Jingle Someone's Bells Tonight
Ooh, baby it's getting cold outside, and there are plenty of ways to warm up this holiday season. You could throw on some cozy layers, bundle up by the fire, or whip out your phone and sext someone a hot message. Or... do all three at once! Whether you're a pro-sexter or need a little inspo, texting fiery messages can be oh-so-much fun, and here are a few fun sexts to send during the holidays to rev your engine.
I personally love everything about the holiday season — twinkly lights and decorations, festive parties, and giving gifts — and I wish the holidays were twice as long. When crafting your holiday sext, you could aim to be punny, funny, or straight-up sexy. But since the holidays don't last forever, I suggest taking advantage of the season and getting into the true spirit of Sext-mas with some festive, fiery messages. As fun and wonderful as the holidays can be, they can also be stressful, as people seem to be dashing all over the place buying gifts, checking things off their holiday to-do lists, and trying to make an appearance at every holiday party. What better way to release some stress and relax than with a sexy sweat with your partner? So read on to find a few steamy sexts you can send to your partner to get the holiday hump-fest going!