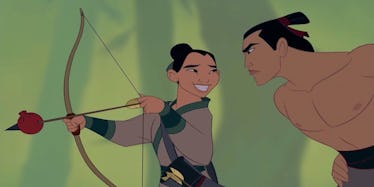 9 Secrets About 'Mulan' Even The Biggest Disney Fans Wouldn't Know
Disney
It's been 20 years since Walt Disney Pictures' classic "girl meets boy" narrative got a major, and much needed rewrite with the release of female-centric flick, Mulan. The 1998 feature brought young fans an entirely new perspective with its strong, independent lead and her (literal) fight for equality. A feminist icon in her own right, girl defeated the huns and gender stereotypes in one fell swoop. Even Mulan's on-screen romance with Li Shang took a backseat to her efforts and ambition. It was clear she didn't need a man, and as such when a relationship unfolded between the pair, it was because he fell for her, success and all. Take note, boys. While there are plenty of secrets the biggest fans wouldn't know about Mulan, the film's message and impact remains two decades out.
In a The Washington Post review of the film written shortly after its '98 premiere, longtime film critic Rita Kempley said:
Some day her prince may come. But Mulan's kung-fu Cinderella isn't sitting around the fishpond playing hard to draw. Unlike her animate forerunners, Fa Mula is a fairy tale feminist, and it is she who determines her fate in this intriguing, elegantly designed feature from Disney's ink pots.
Still rings true. But how did it all come to be?
1. It took five years and 700 crew members to make the film.
While fans were inevitably bummed over recent news of the live-action adaption's two-year premiere delay, the original film was a whopping 5 year production. And per Oh My Disney, it took a village, and a lot of coffee (like 1,630 pounds of it). There were reportedly 700 animators, artists, and technicians employed on Mulan. But what are a few years and hundreds of crew members in the grand scheme of its success? According to Forbes, the animated flick earned $304 million worldwide and was the seventh best grossing film of the year. Casual.
2. It's based on a legend.
According to PopSugar, the story of Mulan was actually derived from a folk song, "The Ballad of Mulan." Originating from the Northern Wei Dynasty, the legend follows Hua Mulan, a woman that leaves behind her family for 12 years to serve as a soldier. The Disney version was likely inspired by the Xu Wei play, The Heroine Joins the Army in Place of Her Father.
3. The soundtrack was nominated for an Oscar.
I mean, I knew the film had some bops, but apparently the ~Academy~ thought so too. Mulan was nominated for two Oscars: Best Original Musical and Best Comedy Score. Beloved tracks like "I'll Make a Man Out of You" and "Reflection" helped secure the soundtrack its top spot on the Billboard charts, where it ultimately landed at No. 24.
4. Filmmakers slaved over the lyrics of one famous track.
Oh My Disney reports that the Mulan creators really wanted to nail "Reflection," so much so that they took several passes on its lyrics. According to the site, they wanted to convey Mulan's true intentions: to be herself and make her father proud.
The song is actually relatable AF. With lines like "How I pray, that a time will come/I can free myself, from their expectations" and "I may never pass for a perfect bride, or a perfect daughter/Can it be, I'm not meant to play this part?" It's all kinds of applicable in this day and age. Ever felt like you couldn't live up to someone (or society's) expectations? Mulan's been there.
5. Poor Mushu didn't get a solo.
The writers tried out three introduction songs for Mulan's sidekick, Mushu, but ultimately the poor guy (dragon?) didn't get a starring moment. According to Oh My Disney, everytime they tried to incorporate an intro track, it seemed to "halt the film," leading to their decision to cut out his solo all together. Bummer.
6. Mulan is the only Disney princess that's not, well, a princess.
According toE!, Mulan is the only disney princessthat wasn't A. born into royalty or B. paired up with a prince. And I'm so here for her unique path. The film's focus is all about her personal journey, supporting her family and following her own ambitions. To me, that's way more powerful than a crown.
7. The ending shot of the crowd has major meaning.
Yasss to defying societal expectations, am I right? According to Producer Pam Coates, Mulan not only confronts these standards head-on, but she also manages to alter them. The crowd bowing in the closing sequence symbolizes how she has changed the way society thinks, simply because she was true to herself and her heart. If only it were that easy IRL.
8. The film launched Christina Aguilera's career.
Aguilera's Mulan hit, "Reflection," skyrocketed her to success. Fresh off her time on the Mickey Mouse Club, Xtina was looking to move forward, and the film did exactly that for her career. According to E!, it was her impressive vocals on the track that landed her a record deal with RCA. Look how far it's taken her.
9. Mulan was one of two Disney princesses to wear pants.
I find it pretty insane that only two "princesses" skipped the ball gowns, but it further cements Mulan's important role in the Disney empire. Buzzfeed reports Aladdin's Jasmine and Mulan as the only pair to sport pants. Comfort (and equality) are key, and I'm glad these gals get it.