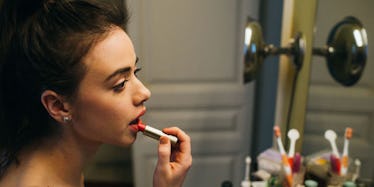 9 Inspiring Quotes To Make You Feel Like A Bombshell Before A Date
You agreed to go on a first date and your stomach is kind of a big jumbled mess of nerves while you're getting ready. You listen to some Beyoncé or Ariana Grande to make you up your confidence game, but you need a little extra something. The pop divas just aren't hitting the spot with their songs, and your friends' "You got this!" texts aren't making you as confident as you had hoped. Have no fear, because I'm going to make you feel completely ready with these pump-up quotes that make you feel sexy before a date from some legendary women.
If you're about to go on a date, and you want to feel like the best version of yourself. Dates are sort of like... sexy interviews in which you're presenting the highlight reel of who you are as a person. You want to look and feel your best, of course. And if you're not in the right headspace, you may not be ready to show that person who you are. But, some inspirational words from some of the sexiest women around can offer their own experiences about self-confidence and beauty. Read some of their own words and personal thoughts, below.