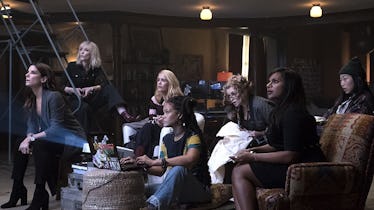 You Might've Missed These Subtle Kardashian Kameos In 'Ocean's 8'
Warner Bros.
After months of hype, Ocean's 8 is finally here, and it's everything you want out of a summer movie. Part thriller, part comedy, and part surprising drama, I don't think it's going too far to say that Ocean's 8 is the perfect June hit. The movie's A-list talent is beyond compare, but Sandra Bullock, Cate Blanchett, and Rihanna aren't the only stars who made an appearance in the heist movie — there were dozens of Ocean's 8 cameos from famous celebs, and the full list will make you want to run to the theater ASAP. After all, how can you throw a Met Gala without inviting at least one Kardashian?
The vast majority of the Ocean's 8 cameos come during the Met Gala heist scene, which covers everything from the red carpet to the event's final moments. You can't have a fake Met Gala and not show the arrivals, right? Stars like Olivia Munn, Zac Posen, and Gigi and Bella Hadid show up to the Met for fashion's biggest night, and even though they don't say much (and some say nothing at all), their presence makes a huge impact on the film. Here are a few of the biggest A-list cameos in Ocean's 8.
1. Anna Wintour
Is it really a Met Gala without Anna Wintour? The Vogue editor-in-chief and chair of the Met Gala makes her on-screen appearance during the lead-up to the event, when Tammy (Sarah Paulson) joins the gala (gah-la, not gay-la) planning committee. In the funny scene, Wintour is too busy watching a tennis match — and screaming at her computer — to even notice Tammy's presence, which is exactly what the "fence" wants.
2. Dakota Fanning
Fanning is one of the few cameo actors who plays someone other than herself. The actress appears as Penelope Stern, a young "it girl" who meets with designer Rose Weil (Helena Bonham Carter) to make Daphne Kluger (Anne Hathaway) jealous. The plan works, and Kluger immediately hires Rose to design her Met Gala outfit — one that includes the focal point of the heist, the Toussaint necklace.
3. Kim Kardashian, Kylie Jenner, and Kendall Jenner
Technically, there's only one Kardashian Kameo in Ocean's 8, but I'm going to count it as three. The three sisters appear on the Met Gala red carpet (yes, in mini sunglasses) and then again inside, but it's such a quick cameo that if you blink, you may miss it.
4. Shaobo Qin
This one is for the Ocean's purists. Ocean's Eleven first introduced fans to Yen, the ultra-flexible acrobat, in 2000, and 18 years later, he steps in to help out Debbie Ocean (Bullock) and Lou (Blanchett) with her latest con. No spoilers, but Yen appears at just the right time, and his presence takes the heist to a whole new level.
5. Heidi Klum
Of all the Met Gala guests in Ocean's 8, Klum probably has the largest speaking role. On the red carpet, the model bumps into Debbie, who's posing as a Lufthansa representative, and the two have a hilarious conversation in German.
6. Katie Holmes
During the event, Holmes is seated at the same table as Daphne Kluger (and that fabulous necklace). She doesn't say much, but maybe that's because she's planning her own con? I kid, I kid.
7. Sofia Richie
Scott Disick's on-again, off-again girlfriend can be spotted on the Met Gala red carpet. Scott isn't anywhere to be found, but he's probably just at the bar.
8. Elliott Gould
Qin isn't the only Ocean's trilogy cast member to make an appearance in the new movie. At the very beginning of the film, Gould reprises his role as Reuben Tishkoff, the millionaire backer behind Danny Ocean's original con, and warns Debbie that her brother, who died recently, wouldn't want her to go through with the heist. Of course, Debbie doesn't listen to Reuben (she's an Ocean, after all) and begins recruiting her crack team of con artists.
9. Hailey Baldwin
Wow, the Ocean's 8 team really made sure that they had a lot of young models available to walk the red carpet, didn't they?
10. Serena Williams
Unlike many of her red carpet counterparts, Williams gets to say a few lines in the movie. As the tennis star moves through a line of reporters, she's stopped to answer a few questions about motherhood. More Serena in Ocean's 9, please.