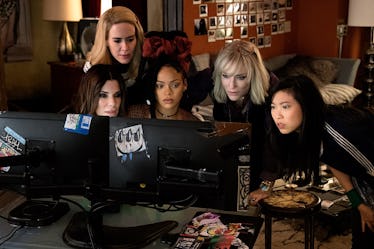 This 'Ocean's' Character Makes An Epic Cameo In 'Ocean's 8,' So Refresh Your Memory Now
Universal
Audiences have been speculating about which familiar franchise faces might make an appearance in Ocean's 8 ever since the female-led spinoff was announced. Well, there's at least one former cast member from the Ocean's movies who is tumbling into the new film, but just who is Yen in Ocean's 8? The gymnast extraordinaire is breifly reprising his role from Ocean's 11, Ocean's 12, and Ocean's 13.
The first 2000s Ocean's remake may have come out back in 2001, but you may remember it introduced The Amazing Yen — an agile contortionist aka the team's "grease man," recruited by Danny (George Clooney) and Rusty (Brad Pitt) at a Las Vegas show to be one of the team's two newbies. His particular set of skills in Ocean's 11? Yen was small and flexible enough to fit into a cash cart, proving that being able to fold into tiny spaces sure comes in handy when you're pulling off a major robbery. He's smuggled in through underground tunnels and gets access to the casino vault, thus putting explosives at the vault door.
The character is portrayed by real-life professional acrobatic performer Shaobo Qin. He is also featured in the movie's subsequent sequels — he uses his agility to circumvent high-speed elevators moving in the shafts in Ocean's 13. Shaobo was reportedly rehearsing with The Peking Acrobats when he was asked to audition for Ocean's 11, despite having no acting experience whatsoever. He has no film credits outside the franchise.
Ocean's 8's star Sandra Bullock is clearly a Yen fan. She expressed her interest in including him in the film, even though the movie's star-studded ensemble is female-centric. Bullock revealed to InStyle,
I always said I want what the guys get to have — whether I'm doing an action movie, a comedy, or a sexy heist film. I'm like, 'Why can't we ladies have that?" I told Jerry Weintraub [the film's original producer, who died in 2015] I don't care who it's with as long as the ladies are all lovers of women and we get back the character Yen [Shaobo Qin, the contortionist from the Ocean's Eleven films]. I just want Yen.
Ocean's 8 is linked to the Steven Soderbergh versions of Ocean's via Sandra's character Debbie Ocean, who happens to be the estranged sister to fellow thief ringleader Danny Ocean (George Clooney). Bullock clarified how the films are connected, explaining to EW,
We're not a reboot. We're just a 'This is what's happening in 2017.' It's not even a passing of the torch. It's a parallel story of another family member that was raised in the same family Danny Ocean was and what happens when Debbie steps out of jail with all of these amazing, powerful women.
Yen makes a memorable cameo in 8 that harkens back to the beloved trilogy, but he's not the only appearance that will have audiences doing a double take. Kim Kardashian, Olivia Munn, and Katie Holmes are among the A-list celebrities viewers should expect to see glam up the big screen.
And like the other Ocean's films, the main Ocean's 8 characters each bring their own set of expertise to the Met Gala jewelry heist.
"They did a really wonderful job of giving every character not only a specific skill set that makes them an asset to Debbie Ocean's team to pull off this heist, but they all have very distinct personalities. The thing that separates me from the other women is that I'm the only one in the movie who's a mother," Sarah Paulson, who plays Tammy, explained.
Mindy Kaling's Amita is a jeweler, Constance (Awkwafina) is a master pickpocket, Helena Bonham Carter plays a designer named Rose, Rihanna is a tech wiz who goes by Nine Ball, and Bullock is the criminal mastermind assisted by her right hand woman, Lou (Cate Blanchett).
Ready to see The Amazing Yen in action again alongside the ladies? Ocean's 8 is currently in theaters.