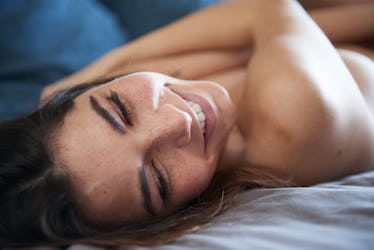 9 New Year's Resolutions For Exploring Your Sexuality In 2019 That Will Make You Feel Empowered AF
After the shimmery dresses come off and the Champagne hangover comes on, you may find yourself looking at your "resolutions" as a means to doubt how amazing you are. So, I'm going to cut to the chase: You're beautiful and amazing and your weight, your clothes, and your skincare routine don't need to change. But if you're feeling stuck in a sexy rut, manifesting some New Year's resolutions for exploring your sexuality in 2019, can be a fun and empowering way to feel more in tune with your body.
At it's best New Year's can be an empowering time to set intentions for the future and cultivate gratitude for the past. Taking a moment to focus on all you've made it through in the past year can propel you take the next 12 months head on. Whether you're single, dating, or on a self-inflicted six month vow of celibacy, exploring your own sexuality can be a cool way to learn about your body, it can also be really fun. Of course, when trying new things, you may find out the stuff you're not into. And if something's not floating your sexual boat, you never need to push your boundaries, no matter the month.
Here are nine resolutions aimed at feeling in tune with your sexy side in 2019.