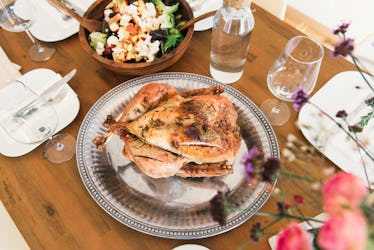 9 Healthy Thanksgiving Recipes That Will Instantly Make Your Mouth Water
It's true that Thanksgiving is about giving thanks for the amazing family and friends in our lives, but we can all agree that the Thanksgiving dinner is another important thing we're extremely thankful for. I personally can't wait to consume all of the stuffing, turkey, mashed potatoes, and apple pie that I can get my hands on, which is why having some healthy Thanksgiving recipes on deck for your holiday menu is so important. And, yes, these recipe tutorials are super healthy, but they are also so delicious that you'll definitely be going in for more helpings.
Some of these recipes are vegan or gluten-free as well, so any of your guests who have a food allergy can help themselves to as much as they please. You can pretty much find a healthy recipe for every Thanksgiving food staple item that your family loves to make. We've assembled these nine festive recipes that you can take a stab at to have a healthier spread for your guests. There's even a pumpkin pie recipe that looks so incredibly amazing that I will for sure have to try it out this year. Make sure to save room for dessert. I mean, it's the holidays, so why not start with the pie first?