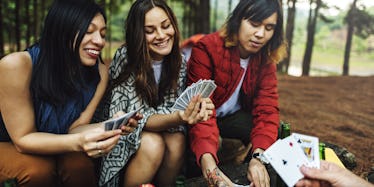 9 Games To Play At Your Friendsgiving Party That'll Have The Whole Crew Laughing
A Friendsgiving party is where you really let loose and celebrate the yummy holiday with your best crew. It's relaxing and can make any group of friends closer and stronger. Aside from the food and reminiscing the good times, interactive Friendsgiving activities are a must. Throwbacks are the games to play at Friendsgiving, because they were entertaining as hell when we were kids, and still are now that we're adults.
Friendsgiving is the prime time to explore all of those game idea mashups you've always wanted to try. Mixing in some funny board games is also necessary. Yeah, maybe we have put our own "adult" touch to these games, but we still enjoy how simple and fun they are.
When it comes to games for a group of friends, everyone can relate to bringing it back to the basics. You know, the time when we actually had to use our imaginations and wit to entertain ourselves. Those were the days, and on Friendsgiving those games get a second chance to make us laugh, enjoy the company of other people, and naturally have a good time. Whether you take it back to old school or try something new, these games are a surefire way to keep you and your guests beyond entertained.