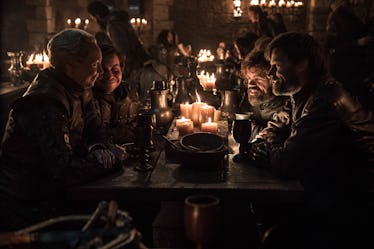 9 'Game of Thrones' Season 8 Episode 4 Easter Eggs You Definitely Missed On Sunday
HBO
Game of Thrones Season 8 isn't just the final season of the show. It's also a tribute to the series history, starting with the premiere, which was practically a love letter to the show's pilot back in 2011. While not every episode is quite as chock full of references, the series calls back to its history (and the A Song of Ice and Fire books) whenever possible. In the latest episode, the Game of Thrones Season 8 Episode 4 easter eggs were mostly confined to the post-battle feast at Winterfell, but they still came thick and fast.
One clip that probably wasn't an easter egg, but might have felt like one to book readers was the way Rhaegal died. The dragon's namesake, Rhaegar, was killed from a spear to the chest from Robert Baratheon, and "blood flew like jewels" from his chest. (The book describes this several times, sometimes comparing the blood to rubies.) Rhaegal's death in this episode felt like a match to that, especially as the blood flew out of his chest before he crashed into the sea.
While that one might be a bit far-fetched, some of the other references and callbacks were much more direct. Let's run them down.