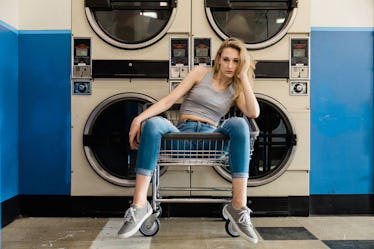 Next Time You See A Cutie At The Laundromat, Try These 9 Pickup Lines
Going to the laundromat is one of those things that I always put off as long as humanly possible. So of course by the time I get around to it I'm lugging a massive pile of laundry, which is heavy, inconvenient, and takes forever to get through. It's terrible, hence the procrastination, and thus the cycle (pun intended) continues. Yes, laundry day sucks — that is, unless there's someone around to get your flirt on with. In that case, you might want to have a few fun pickup lines to try at the laundromat to get the party started.
To me, the best pickup lines are the bad ones — and I mean bad. I like them to be cheesy, cheeky, and guaranteed to make me groan. If anyone comes at me with anything else, it just seems too slick and gives me an automatic f***boy vibe. Make me laugh with a dad joke, though, and we might be practicing making babies by the end of the night. So with that in mind, and with a pre-apology for the shamefully bad jokes that are about to follow, here are some "Me Approved™" pickup lines to take for a spin next time you're at the laundromat.