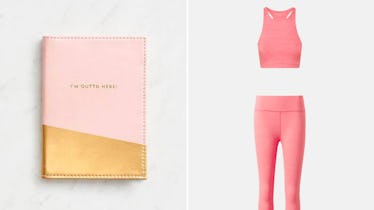 9 Essentials To Pack When Traveling Abroad That'll Make Your Trip So Much Easier
Paper Source/Outdoor Voices
When it comes to traveling to a new destination, I think most of us can relate to the packing struggle every now and then. You're excited to visit this place that's been on your bucket list for what seems like forever. You're counting down the days until your flight departs, and you've been reading every blog on the internet to help you plan for this trip. But when it comes time to pack, you're totally stumped. Where do you even begin? Well, here are some essentials to pack when traveling abroad so that you're ready for the adventure.
Packing can feel like the most daunting task whenever you're preparing for a trip. You don't want to under-pack, but you certainly don't want to overpack. You feel like you should be prepared for every scenario under the sun, but you can't bring it all. So, it's important to be strategic about the things you do decide to bring.
You want to ensure that you prepare for the weather and any other planned activities. You want to prioritize clothes that make you feel really good, because you can only pack so much. There are certain things that you don't want to leave behind, and this list will help you start packing for the adventure of a lifetime.