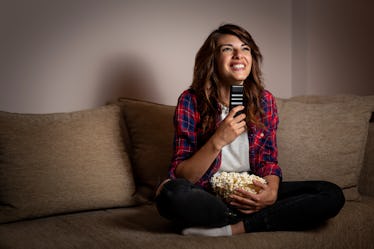 9 Best Movies To Watch On Netflix If You're Alone On A Friday Night & Looking To Chill
It's Friday night, and either your friend just bailed, or you made zero plans because you had an exhausting week at work. Who said Fridays were meant to be party nights, anyway? I actually prefer a nice relaxing night at home by myself, getting cozy on the couch. That's when the real Netflix and chill happens. In fact, some of the best movies to watch on Netflix if you're alone on a Friday night are rom-coms, but there are also a few throwbacks that bring back a ton of nostalgia that you'll want to add to your watch list as well.
Pretty much anything that puts you in a good mood is a solid choice. Though, sifting through the tons of titles on Netflix can get a bit overwhelming. I end up just watching the same three movies over and over again, because I'm too lazy to explore the other options. It doesn't have to be so bad, though. You take care of the wine and popcorn, and I have put together the ultimate list of nine Netflix movies that you'll definitely want to add to your queue as soon as possible. Get ready, because this is going to be one of the best Friday nights alone ever.