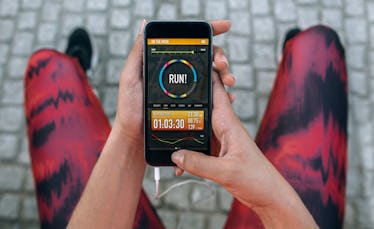 9 Apps That'll Help You Stick To Your New Year's Resolutions In 2018
The new year is nearly upon us, and so are all of those resolutions we came up with in a momentary flurry of positive thinking. Except, now those resolutions are starting to seem just a little bit daunting. Changing your habits is never easy, and we tend to want to change all of our habits at once. To make things a bit easier on yourself, it may be especially helpful to download some apps for new year's resolutions that will actually help you stick to yours.
Whether you're setting a goal to eat a little bit healthier in 2018, or you're taking on a total lifestyle overhaul that involves quitting an addiction or changing the way you approach your fitness routine, there's an app to help you make it a reality. Besides, it's always easier to stick to a commitment when you're doing it with a community, and a tech community can be just as supportive as an IRL one.
This new year's, don't leave your resolutions up to chance. Downloading an app to help you stick to a resolution is a great way to help yourself go the distance, and a similarly excellent way to make this resolution a fun new lifestyle rather than a miserable chore to stick to. Here are nine apps to help you with even the hardest resolutions.