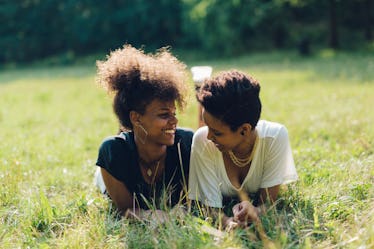 8 Zodiac Sign Pairings That Almost Never Fight In Relationships
How often do you fight with your partner? Does it seem like you butt heads frequently, or is it mostly smooth sailing between you? If it's the latter, chances are you and your SO are one of the zodiac sign pairings that rarely fight in relationships, because you balance one another out. Chances are, you've heard the phrase "opposites attract." While it can be true that differences in romantic partners can be appealing because they're so intriguing, oftentimes, once that new relationship energy wears off, those differences have the potential to create a lot of friction. So, while finding someone who's your opposite can be really fun, finding someone with whom you're well-balanced can bode better for a long-term love. That means finding a partner who balances your strengths and weaknesses and who meets your emotional needs.
But, like most things when it comes to dating, finding a well-balanced relationship can be easier said than done. Where do you even start? Well, one thing to consider while swiping your way through dating apps is you and your match's astrological compatibility, and which zodiac sign tends to be the most in-sync with your own. In this case, the zodiac can be a helpful tool for understanding one another's values, personalities, and world views, and (more importantly), whether or not a match's zodiac sign is compatible with your own. For those already booed up, the zodiac can also offer a way to gain a deeper understanding of your partner's point of view and potentially help smooth over some areas of disconnect. Here's what the stars have to say about zodiac signs that rarely fight in relationships.