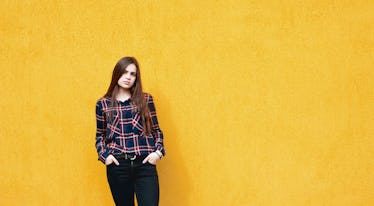 8 Women Reveal The Most Painful Times They've Been Dumped & It's Brutal
I remember the first time I got dumped. It was humiliating. It was also in fourth grade. So maybe it's not one of my most painful stories of being dumped, but it has left a lasting impression. You see, I had been going out with Danny Meyers for the whole week. I had asked him out through a friend on Monday and he said, "I guess." We didn't speak the entire week. It was true love. But come recess on Friday, I had a sense that something was off. He wasn't looking at me, so everything was normal on that front. The problem was all his friends were, and they were whispering. Until one (Andrew, you Judas) walked up to me and said, "You're dumped." The world spun off its axis and love had died. Well, at least until after school when I asked Bobby L. to go out with me (I was apparently a very aggressive pre-teen) and he said, "Sure." Romance lives! Love is reborn!
Don't you wish all your breakups were as "tragic" as your school-yard ones? Unfortunately, no kickball-adjacent dumping is going to prepare you for the real thing when you're grown up. And if you think kids can be cruel, just take a look at these brutal breakup stories people shared on Reddit. Seriously folks, brace yourself, there is rough stuff ahead.