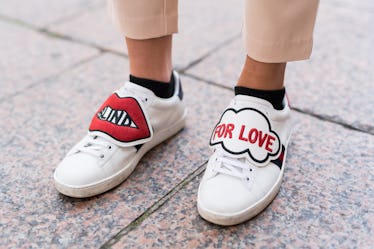 8 Women Revealed Their All-Time Favorite Sneakers & The Responses Were So Nostalgic
Emma McIntyre/Getty Images Entertainment/Getty Images
Everyone has that one pair of shoes that feels like home. Whether you've been wearing them for two years or for 12, for some reason they provide optimal comfort, both physically and, strangely, emotionally. I spoke to eight women about their all-time favorite sneakers and as you can imagine, many of them named classic styles that have withstood the test of time. Converse, Vans, Nike, and Adidas styles were all named for the piece, along with a few more surprising picks. The shoes themselves aren't the most interesting part of this story, though — it's the reasoning as to why they're so special to each individual that truly makes this a must read. Power to the sneakerheads!
Ariana, 27
I've been wearing Vans since middle school, which I feel half of my peers have been doing, too. What can we say, they rule! While I generally stick to the classic black and white color palette, Vans consistently releases cool pattern after cool pattern and I've made it a goal to expand my sneaker repertoire this year. I'll be starting with this red and white checkerboard style, which will pair excellently with denim and a fiery pout.
Veronica, 24
Converse Chuck Taylor All Star Low Top
My favorite sneakers of all time have to be the classic, white, low-top Converse. I've been wearing them since eighth grade because they match with everything and they last forever. You really can't go wrong with a pair of these. I'd wear them every day if I could! Only downside is that they get dirty real quick, but I have friends who bleach theirs to make sure they're always nice and bright. I love 'em!
Kayla, 27
I used to think running was a punishment until I started running for my mental health. Nike Frees have helped cure so many of my bad days and have also helped me feel proud, accomplished, and strong. 💪🏼
Bernie, 29
I just like my Stan Smiths because my dad had the same pair back in the day and I think that's cute. 🤓
Cindy, 28
Puma FENTY Pointy Creeper Patent
Right now my all-time faves are my Fenty Puma pointy toe creepers! They're technically not sneakers in the traditional sense (I cannot run in them to save my life) but they add some edge to anything I wear and [my boyfriend] Jamie says they are my snow tire shoes, so 👍.
Brittany, 27
Converse Chuck Taylor All Star High Top
I remember getting a pair of black Converse in 7th grade. The cool thing to do was draw all over your sneaks with a pen with your favorite song lyrics or doodles, but I wouldn't dare mess mine up. I loved them so much and kept them long into high school. They were just so effortless and edgy whenever I needed them.
Madison, 29
I really, really love the black stretchy sock-like sneakers by Nike. They're lifesavers when traveling because they slip right on and they're also great for raves and concerts because they're low key enough to blend with any outfit, comfy enough to hold up to hours of dancing, and breathable enough for any hot and humid warehouse or festival. Plus, they're flat enough for HIIT workouts and they don't have deep treads, which makes them good for the dog park; it makes cleaning off the hidden poos you will most definitely step in way easier.
Mia, 31
I love them because I wore them when I was younger and they never really went out of style, they just evolved. They're versatile and come in all sorts of colors and collaborations. I own a pair of limited-edition A Tribe Called Quest ones and they are my absolute favorite.
Alana, 29
Superga Linea Lace Up Platform Sneakers
I can't even explain what makes these Italian-designed white sneakers better than the many cheaper options on the market. The sophisticated silhouette? The straight across laces? I JUST LOVE THEM. I wear them year-round, with skirts and dresses in the summer, jeans in the fall, and against black tights in the winter. They provide a subtle boost in my height that makes me walk a little taller, but still look casual. I'd wear them with a couture gown and it would look that much cooler.
What's your go-to style?