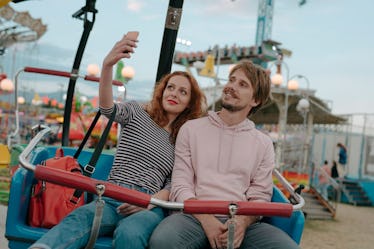 8 Ways To Give Your Partner More Attention If You've Been Busy Lately
Most people with busy schedules deal with stress and life's generally high demands at some point or another. But sadly, that stress can impact your relationship if you have so much going on that your partner starts becoming less and less of a priority. And while being busy isn't the end of the world, there are ways to give your partner more attention when life starts to get in the way, because you both deserve quality time together, and showing your partner how much they mean to you can be more appreciated than you think.
It's no secret, relationships require attention, that's just a fact. "Coordinating your free time in order to be together is a basic of being in a relationship," best-selling author and NYC dating expert Susan Winter previously told Elite Daily. Relationships take effort, and even though life gets busy, it's important to give your partner the attention they need and deserve if you want your relationship to be a priority.
"You and your partner need to talk about their bottom line for feeling appreciated and valued in a relationship," Winter said. "Get specific: How many days a week does your partner need to see you? How many nights? Do they need the entire weekend? Saturday afternoon into Sunday morning?" Have a baseline understanding of what your partner expects from you, then try out some of the following ideas to shower them with affection.